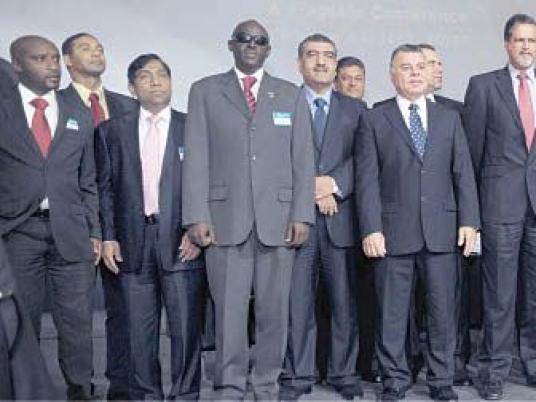 As Egypt struggles to recover from a period of political tumult and a two-year economic downturn, the country's market officials are looking south and west to their rapidly growing African neighbors to inject new capital into the market.
Amid a politically turbulent week bookended by large-scale political protests, a group of African market leaders and Egyptian officials gathered in Cairo this week to discuss how they can foster greater cooperation between the Cairo stock exchange and its counterparts around the continent.
"There's a tendency on this continent to think of FDI (foreign direct investment) as coming from outside Africa," said Jean-Louis Ekra, chairman and president of the African Export-Import Bank. "We need to rethink that."
Egyptian officials thanked many of the African investors and market officials for coming to Egypt despite the atmosphere of uncertainty.
"I thank you for your bravery in coming," Prime Minister Hesham Qandil said in his address. "You are seeing history in the making."
Qandil told attendees that this week's draft constitution, approved by the Constituent Assembly under the auspices of President Mohamed Morsy, was "a crucial step in the democratic process," which would be "the end of the transitional period."
The conference was sandwiched between two large-scale protests. On Saturday, supporters of the president gathered in front of Cairo University to demonstrate their approval of the expansion of powers and the constitution draft the assembly approved the day before.
The draft was approved by the assembly in an uncharacteristic burst of productivity over three days, taking place after the withdrawal of Christian and liberal representatives, and the passing of the constitutional declaration which had given the assembly an additional two months to continue the drafting process.
On Tuesday, the last day of the conference, protesters marched to the presidential palace to express their opposition to Morsy's expanded powers and the draft constitution.
But Qandil emphasized the relative stability of the country, saying international media can often make events seem more widespread and dangerous than they are. Rather, he said, it was a great time to start investing in Egypt.
"Investors can now invest with an unprecedented level of accountability and transparency," he said.
Trajectory of growth
Relying on African capital instead of European, American or Asian investors would be a huge departure from Egypt's economic policy, which is largely still tailored to attract mostly European foreign investors.
But it would coincide with Africa's rapid trajectory of growth. When most of the economies around the world hit the brakes following the international financial crisis of 2008, many African markets continued to surge forward, experiencing growth rates of 5 or even 10 percent of gross domestic product.
"A third of African countries will grow at or above 6 percent [this year], with some of the fastest growing ones buoyed by new mineral exports and by factors such as the return to peace in Cote d'Ivoire, as well as strong growth in countries such as Ethiopia," World Bank Vice President for Africa Makhtar Diop said in an October World Bank statement. "An important indicator of how Africa is on the move is that investor interest in the region remains strong, with US$31 billion in foreign direct investment flows expected this year, despite difficult global conditions."
How Egypt fits into the continent's growth is yet to be seen, but, according to an economic plan released by the Egyptian Cabinet last week, which Qandil summarized at the conference, the Egyptian economy should be experiencing a growth rate of 7 percent, on par with some of its southern neighbors, by 2022.
And more Sub-Saharan business opportunities would definitely help Egypt out of its fiscal hole. The European financial crisis shows no signs of letting up soon, and Europe's investors are unlikely to take a risk on a still-transitioning Egypt while things are less than stable at home.
"The integration of our economies is absolutely critical," said Charles Boamah, finance vice president at the African Development Bank.
Mohamed Omran, executive chairman of the Egyptian Exchange, expressed the same sentiments.
"Alone we can do so little, together we can do so much," he said.
African business could help fill that vacuum, and further cooperation would encourage innovation, streamline production and shipping processes, which would likely lead to gains for all parties involved.
"Exchanges are driven by skills," said Oscar Onyema, chief executive of the Nigerian Stock Exchange. "As global portfolio handlers increasingly allocate more funds to African markets, the more connected they are, the better you have the network effect."
Common perils
In addition to investments, other African markets have something very valuable to offer Egypt: experience.
Many of the continent's largest markets have revolutions, wars and massive transitions in their recent histories, and their market officials can give advice on how to minimize the impact of the transition on the economy.
South Africa, with the continent's largest stock market by volume, went through the process of rewriting a constitution less than a decade ago. Nigeria is in the middle of lifting its fuel subsidies, a move that Egyptian leaders have also just embarked on, with more subsidy cuts planned by the end of the fiscal year.
Onyema said Egypt could learn from Nigeria's mistakes.
When Nigeria took the first step toward removing their expansive fuel subsidy program last year, Onyema said, Nigerians were caught off guard.
"We were all surprised when the subsidy was removed," he said.
Egypt's government should do a better job at communicating to citizens when, how and why subsidies are being removed, he said.
"There needs to be accountability," he said. "People will then be more accepting of the cuts."
But to his knowledge, Onyema said, no Egyptian officials have consulted with Nigeria experts on the matter.
A long-term approach
Egypt was one of the founding member countries of the African Development Bank, which was launched in 1963 to contribute to the economic development and social progress of African countries.
The bank has helped fund some of Egypt's extensive infrastructure and irrigation projects.
Most recently, the bank helped review the economic plan Morsy's Cabinet submitted to the International Monetary Fund two weeks ago and is one of the complementary funders that will be providing the government budget support this year, Boamah confirmed to Egypt Independent.
Some have speculated that Morsy's expanded powers and the draft constitution's approval by an unrepresentative assembly could jeopardize the supplementary loans from various international financial institutions and countries that the government is expecting this year.
In a statement last week, IMF spokesperson Wafa Amr said the fund would still consider giving Egypt the planned $4.8 billion loan as long as assurances from "Egypt's bilateral and multilateral partners regarding their expected provision of program financing will be forthcoming."
The African Development Bank, which is one of the partners, will not be withdrawing the funds it promised, Boamah confirmed, as it is more focused on a country's long-term economic health.
"We take a longer-term view," he said. "But of course, there is a sense of urgency."
He said the bank is also looking at giving the country a significant capital increase, though it is still being approved by bank officials.
The development bank's approach seems to be indicative of the bold nature of African investors, demonstrated by the delegates' willingness to attend the conference at Cairo's Four Seasons Hotel in Garden City, located just meters away from where violent clashes between demonstrators and security forces took place days ago.
Unlike investors from other parts of the world, an African investor might be more accustomed to seeing business opportunity amid political chaos.
Onyema said that from what he had seen during the trip, he was optimistic about Egypt's future.
"We've certainly stated our surprise that things aren't as bad as they seemed in the international media," he said. "As the political system settles down, I think Egypt will bounce back better than ever."
For some of Egypt's funding partners, the current political circumstances remain worrying.
The European Bank of Reconstruction and Development (EBRD), like the African Development Bank, has also helped consult Egyptian officials on the country's economic plan. The bank is compelled by its laws to ensure its clients are abiding by democratic principles.
"We, because we are the only [international financial institution] that has a democracy mandate, are watching this very closely," said Erick Berglof, chief economist at the ERBD. "We have some concerns about [Morsy's] expansion of powers."
Should Morsy take more authoritarian actions, Egypt would only be playing into the negative stereotype of many African countries — of widespread poverty and dictatorships.
This would run counter to Qandil's plan for Egypt and the rest of the continent, of homegrown economic growth and a new public image for Africa.
"We should work together to change the negative perception of our communities," Qandil told the delegates.
This piece was originally published in Egypt Independent's weekly print edition.