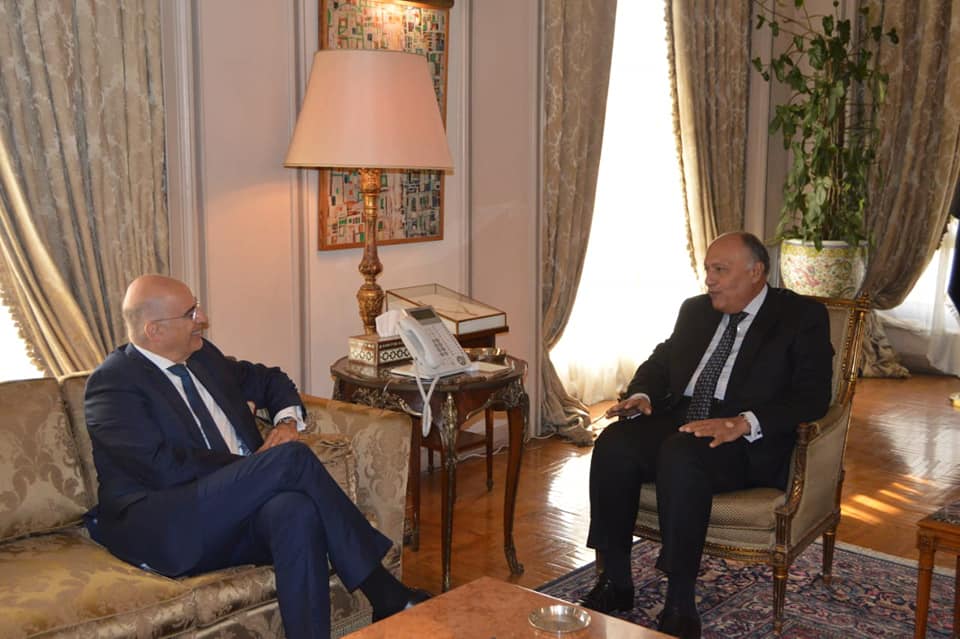 Egyptian Foreign Minister Sameh Shoukry and his Greek counterpart Nikos Dendias condemned on Sunday recent agreements between Turkey and the Prime Minister of the Government of National Accord in Libya Fayez al-Sarraj concerning sovereignty over maritime zones in the Mediterranean Sea.
Sarraj, who also acts as Chairman of the Presidential Council of Libya, signed two memorandums of understanding last week with Turkish President Recep Tayyip Erdogan. One aims to boost security and military cooperation between the two countries, while the other discusses maritime boundaries in the Mediterranean.
The agreement is said to allow Turkey to use Libyan airspace and establish military bases there.
Shoukry and his Greek counterpart agreed during Sunday's discussion on the latest developments in Libya that entering into agreements with other countries is not part of the powers stipulated in the 2015 Libyan Political Agreement signed in Skhirat, Morocco, making Sarraj's latest move "illegitimate," according to a statement by the Egyptian Foreign Ministry.
Shoukry and Dendias' meeting also dealt with the "negative" impacts of Turkish intervention in Libya's affairs, which they say contradicts efforts to reach a comprehensive political settlement in the war-torn country.
The two ministers discussed major international issues of common concern as well, including efforts to combat terrorism and curb illegal immigration. The meeting also reviewed the positions of the two countries on the most pressing issues in the region, including developments in Syria, Lebanon, Iraq, Yemen and Iran.
The meeting also touched on ways of enhancing bilateral relations across various fields.
Shoukry hailed cooperation between Cairo and Athens across different sectors, noting the positive impact of the October meeting between President Abdel Fattah al-Sisi and the Prime Minister of Greece as well as the tripartite summit between Egypt, Greece and Cyprus held in Cairo that same month.
Shoukry stressed the importance of continuing cooperation between Egypt and Greece and continuing to bolster bilateral relations, especially as it relates to developing economic ties and strengthening trade between the two countries, which would reflect the already warm relationship between the two countries and the proximity of their ports.
It is also critical to continue urging Greek companies to increase their investments in Egypt, he added, pointing to promising opportunities across various fields.
Edited translation from Al-Masry Al-Youm