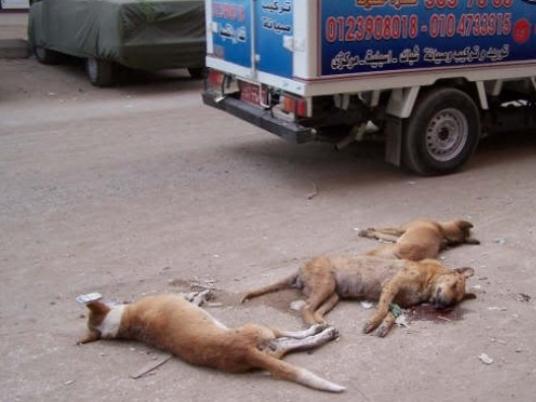 The General Organization for Veterinary Services (GOVS) of Egypt's Agriculture Ministry announced on Saturday that campaigns to eliminate stray dogs in different areas of Cairo is necessary for several reasons.
These include the recent increase in dog attacks on humans, with stray dogs posting a threat towards pedestrians.
The head of the Central Department Slaughterhouses and Public Health Central in GOVS, Hassan al-Gaawini added that the law stipulates that pet dogs walking in the roads must be restricted and muzzled, or they would otherwise be seized and eliminated.
In a statement on Saturday, Gaawini said that a fatwa issued in 2007 from Dar al-Iftaa allowed the killing of harmful dogs.
He added that reports from the Health Ministry show an increase in stray dog attacks during the past 5 years, with a total of 1.79 million cases, 278 of which ended in death between 2014 and 2018.
Gaawini pointed out that the total number of cases for 2014 was 300,000, and rose to 324,000 in 2015, rising up to 370,000 cases in 2016, 398,000 cases in 2017 and then this year to nearly 400,000 cases although the year 2018 thus far.
He also pointed that deaths from dog attacks are increasing; 2014 saw 52 deaths, which rose to 55 in 2015, rising the following year to 59 deaths, while 2017 saw 65 deaths, and this year has seen 47 people die so far, a number that could easily rise by the end of the year.
Gaawini warned that the rabies virus is transmitted to the bodies of animals and humans through saliva from dog bites.
According to reports of Agriculture Ministry an anti-rabies control plan is being implemented, beginning with vaccinating animals in the most vulnerable areas.
The report pointed out that veterinary convoys have been implemented to educate livestock breeders to keep their animals in places where stray and wild dogs do not enter, and to immediately report cases of dogs bites, and to combat stray dogs and other animals carrying the virus in areas of infection.
Edited translation from Al-Masry Al-Youm