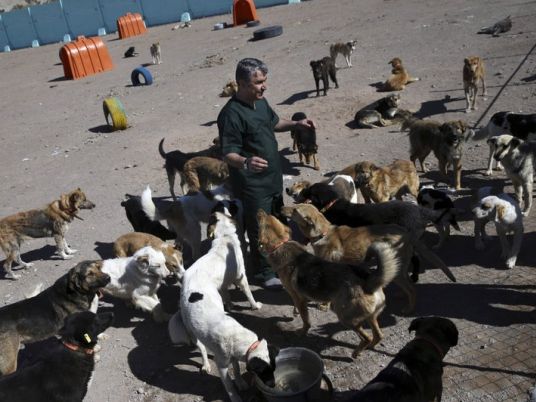 The Agriculture Ministry spokesperson denied rumors that Egypt plans to export stray dogs or cats, adding that animals that leave the country are subjected to a set of strict rules.
The Agriculture Ministry does not import or export dogs or cats, but applies some measures on animals that accompany travelers who are coming to or leaving Egypt, Agriculture Ministry Spokesperson Hamed Abdel Dayem said in a phone interview on the al-Hadath al-Youm channel on Sunday evening.
Claims that Egypt intends to export stray dogs or cats to countries that will eat them are baseless, he added, pointing out that social media users unintentionally tarnish Egypt's reputation by circulating these rumors.
MP Nadia Henry submitted an urgent request to the parliament speaker on Saturday to prepare a bill that criminalizes the export of dogs and cats outside Egypt.
In a statement according to the Sputnik Russian news agency Henry said that the export of street dogs and cats out of the country is "inhumane".
For years, conflicting and denied statements have been made regarding the export of dogs as a way to eradicate the country's problem with stray dogs and the diseases they cause, the MP said. 
Statements by officials in the Ministries of Environment and Agriculture regarding exporting animals as a solution to the problem are against religion, the constitution and humanitarian norms, Sputnik quoted Henry's statement.
Henry explained that she also submitted many solutions to the problem of garbage spread on streets, being the main source of food for stray dogs and cats and the main cause of diseases that infect them.
She added that she also submitted solutions to the agriculture minister addressing the spread of stray dogs such as establishing centers to raise them for guarding purposes in cooperation with animal welfare associations, as is the case in many developed countries.
Henry mentioned that she did not receive a response from both ministers.
Stray dogs and cats are widespread in Egypt's streets, mostly surviving on trash piles.
The number of people bitten by stray dogs from 2014 to 2017 recorded a total of 1.3 million, 231 of whom subsequently died, according to official estimates.
The animals are also frequently subject to abuse, particularly dogs, who have reportedly been targets of government poisoning and cull campaigns.
Edited translation from Al-Masry Al-Youm