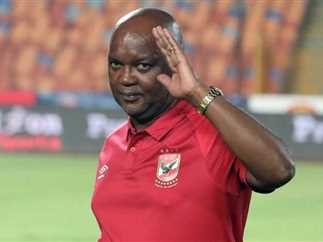 Al-Ahly's board of directors announced, on Monday, the end of the contract with South African coach Pittsu Mousimani which is by mutual consent.
The club administration thanked Mousimani, the coach of the first football team, after the contract was ended by mutual consent, and in light of mutual respect between the two parties.
Mahmoud al-Khatib, the club president, met with al-Ahly Football Company headed by Yassin Mansour, and in the presence of Captain Hossam Ghali, member of the club's board of directors and the planning committee, to discuss the position of Mousimani
Unanimously, it was agreed to adhere to his continuation in his mission in order to ensure the stability of the team, and in view of the successes he achieved with the team.
However Mousimani during the meeting that took place with him asked to leave the mission, and that he is satisfied with the past period.
After discussing the entire situation and unanimously, the desire of Mousimani was respected.
The board thanked Mousimani for everything he presented to the club, and the contract was ended in a friendly atmosphere between the two parties.