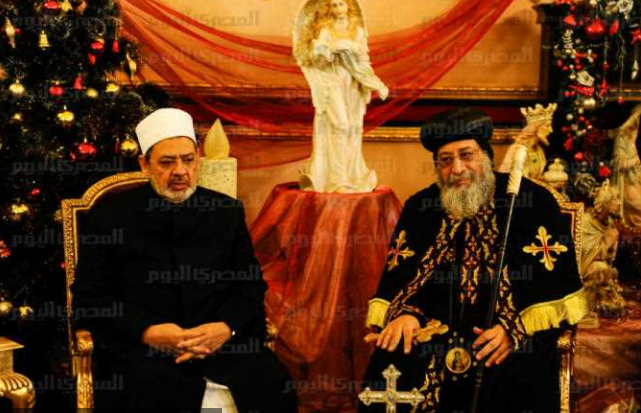 Al-Azhar Grand Sheikh Ahmed al-Tayyeb visited on Wednesday morning the Coptic Orthodox Cathedral in Abbassiya for the occasion of Christmas.
Pope Tawadros II, head of the Coptic Orthodox Church, described the visit as a "message to the whole world [demonstrating] the love we share".
Tawadros referred to the Palestinian-Israeli conflict saying that Al-Azhar and the church both have compatible and unified views regarding the position of Jerusalem.
An Al-Azhar delegation of senior scholars accompanied Tayyeb during the visit including Grand Mufti Shawqi Allam, Undersecretary of Al-Azhar Abbas Shouman, Secretary General of Al-Azhar's  Islamic Research Complex Mohei Eddin Afify, and Tayyeb's adviser Mohamed Abdel Salam.
State TV showed Tawadros receiving the Al-Azhar delegation.
Tawadros visited the St Nicolas Greek Orthodox Church on Monday to show respect to the Greek Orthodox community while they celebrated Christmas.
He also led the mass within the church as a sign of solidarity, reported Ahram Online.
The pope also visited the Catholic Church in Cairo to personally offer love and congratulations to the Catholic Patriarch Ibrahim Ishaq.
The Orthodox Church also contacted other Christian denominations as a sign of respect, despite the Orthodox Christmas occuring on January 7.
Al-Azhar representatives also attended different Christmas celebrations, accompanied by a state delegation sent by President Abdel Fattah al-Sisi.
While Orthodox Christians, who make up around 90 percent of the Egyptian Christian population, celebrate Christmas on January 7, Egyptian Catholics, Anglicans, and other Christian denominations celebrate Christmas on December 25.
While festivities were underway, security was tightened to avoid potential attacks.
Christianity is the second largest religion in Egypt after Islam. Christians account for around 10 percent of the country's population.