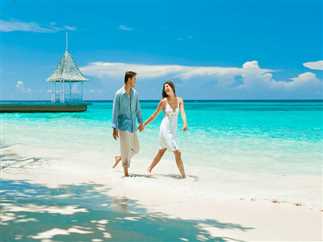 The Al Azhar Islamic Research Academy launched an initiative calling for saving the high costs of marriage dubbed "Li Taskono Ilayha" (To dwell in tranquillity with them).
The Islamic Research Academy announced the launch of the comprehensive initiative to confront some of the wrong customs and traditions that some people resort to in their marriage, which has resulted in continuous suffering for young people.
According to what the Islamic Research Academy stated through a video published on their official Facebook page, on Sunday, this initiative addresses several stages of marriage, namely engagement, preparation for marriage, and marriage itself.
According to the initiative, the engagement ceremony should be limited to reciting al-Fatihah and presenting the engagement ring in the presence of first-degree relatives, and parents. The initiative advised minimizing mutual gifts as gifts are a symbol of affection and not for bragging.
It advised against extending the engagement period in a way that leads to problems, and recommended agreeing on the costs of marriage before signing the marriage contract.
As for the second stage, the initiative said it is preferable for the spouses to obtain intensive courses in family rehabilitation, in addition to limiting themselves to writing the actual movables in the marital movables list (household items' list) and choosing the marital home by agreement between the two parties to the marriage, without the two families' interference and without unnecessary conditions.
It advised agreement on the gold dowry (Shabka) with value and not in grams, and to be recorded in the list of marriage movables.
This stage also includes postponing the purchase of unnecessary furniture items.
For the stage of marriage, the initiative emphasized holding wedding ceremonies as simple as possible without extravagance, limiting the transfer of household furniture to only one vehicle without the presence of many invitees to prevent additional costs, abolishing the customs of exorbitant hospitality costs during the marriage ceremony, and abolishing the requirement of buying clothing for parents of both sides.
The initiative recommended the cancellation of the photo session and traveling in the honeymoon.