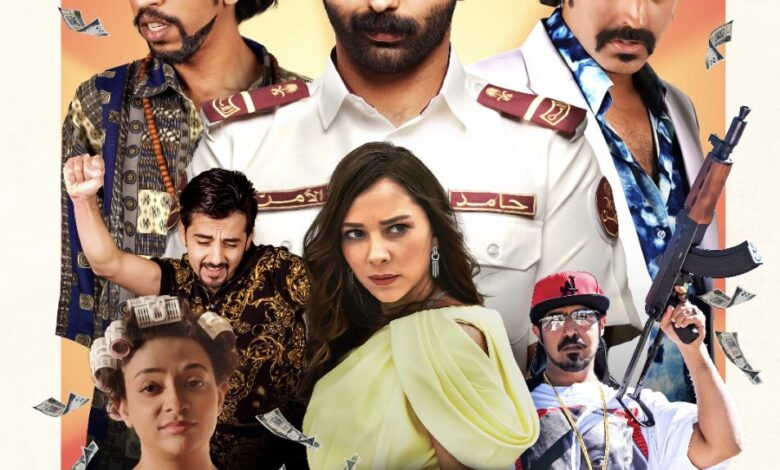 'Alhamour H.A.'  (2023) has become the first Saudi-Arabian film to be officially screen in Egyptian cinemas, starting on Wednesday.
The comedy/drama film is directed by Abdulelah Alqurashi, and stars Fahad Al-Qahtani, Khaled Yeslam, Ismail Al-Hassan, Khayria Abu Laban, Hussam Al-Harthy, Ali Al-Sharif and Fatima Al-Banawi, with Egyptian musician Hesham Nazih as the film's composer.
Director Alqurashi said that Nazih was an important part of the film, adding that he "participated in the movie at a later stage of the post-production and music composition… he perfectly presented that; thus, everyone loved the movie."
The film, set in Jeddah during the early 2000s, tells the true story of Hamour Sawwa – the biggest fraudster in the history of Saudi Arabia. Sawwa collected around 400 million SAR through his group of allies, raising his funds from stakeholders and false promises.
However, his criminal empire begins to fall apart as it rots from within.
The movie marks Alqurashi's second feature film.
"I have had the movie's idea in mind for a while now, since I was working in the banking field," the director said.
"It is also linked with my friend Abdul Ilah who is fond of IPO and stock purchase… I've watched certain scenes before like throwing cash from the top of the palace, asking for contributions… This scene has been carved in my mind since 2004… When I got interested in cinema and headed to the USA in 2010 for study, I wanted to turn this idea into a movie".