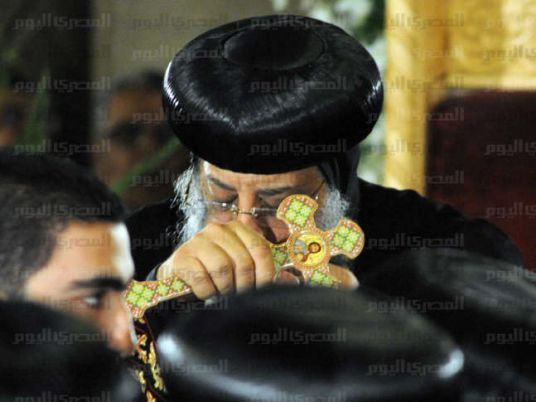 Pope Tawadros II of the Coptic Orthodox Church said that all Christian churches around the world want religious unity, not only the Coptic Orthodox Church. He pointed out that unity among churches is based on unity of faith, but this issue is still subject to individual discussions and has not yet been decided.
The unification of the date of Christmas has not been put to discussion by the Holy Synod, he said during the weekly sermon he delivered at the Coptic Orthodox Cathedral in Alexandria.
Tawadros added that he does not issue explanatory statements for his religious decisions and objectives because it is not necessary to talk about everything that happens. He said that Copts should have full confidence in Church decisions and should not listen to skeptical voices.
Following the sermon, during a meeting attended by a number of bishops from 80 churches, the Pope pointed out that there is a system of social solidarity among churches in which rich churches give aid to poor ones.
Pope Tawadros explained that the postponement of the ordination of Bishop Makarios in the Minya Diocese aims to provide the optimal service to the large governorate, noting that Makarios will be carrying a great burden.
He said he plans to appoint a bishop for scientific research in Minya if he finds a suitable person.
Tawadros rejected the idea of ​​a law prohibiting the wearing of inappropriate clothing in churches, especially on feasts.
"Everyone must know what clothes are appropriate for them and be able to distinguish this," he said.
Tawadros honored top school and university students in Alexandria who were selected through an electronic application created for that purpose.
The Pope also thanked the Ministry of Culture for organizing a book fair on the sidelines of the occasion of the "Revival of the Virgin Mary" at the Saint Mark Church in Alexandria.
Edited translation from Al-Masry Al-Youm