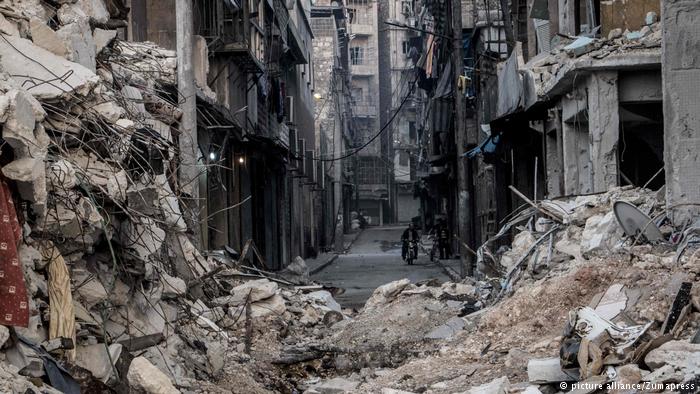 The regime of Syrian President Bashar Assad has committed crimes against humanity and war crimes by subjecting cities to unlawful sieges that gave civilians no choice but to give up or die, rights group Amnesty International said on Monday.
In a new report entitled "We leave or we die," Amnesty examines four so-called "reconciliation" agreements between the Syrian government and the armed opposition that were preceded by sieges and unlawful bombardments that forced civilians to live in dire conditions and caused widespread displacements.
The pacts under consideration were concluded in Daraya, Madaya, eastern Aleppo city and the al-Waer neighborhood in Homs city between August 2016 and March 2017.
"Over the past five years, the Syrian government and, to a lesser degree, armed opposition groups have enforced sieges on densely populated areas, depriving civilians of food, medicine and other basic necessities in violation of international humanitarian law. Besieged civilians have further endured relentless, unlawful attacks from the ground and the air," the report says.
'Crimes against humanity'
Amnesty said the forced displacement of civilians, often not carried out for reasons of civilians' security or military necessity, amounted to a war crime under international law. The rights body further concludes that "the sieges, unlawful killings and forced displacement by government forces are part of a systematic as well as widespread attack on the civilian population, therefore constituting crimes against humanity."
The group appealed to the international community to refer the situation in Syria to the International Criminal Court. It also called for  those investigating rights abuses to be given unhindered access to the country.
Long-running conflict
The Syrian conflict, which has its roots in peaceful anti-government protests in March 2011 that were brutally suppressed by the government, has since grown into a complex war involving a multitude of parties, including government forces backed by Russian air power, anti-government rebels who have received US backing,Kurdish forces and an array of extremist Islamist groupings.
More than 330,000 people have been killed and millions displaced amid the violence.
As recently as Sunday, scores of Syrian civilians at two displacement camps were killed by artillery fire, according to the Britain-based monitor Syrian Observatory for Human Rights.
Amnesty's report was based on interviews with 134 people, including displaced residents, humanitarian workers and experts, journalists and UN officials. The group also used videos and satellite imagery to corroborate witness accounts.