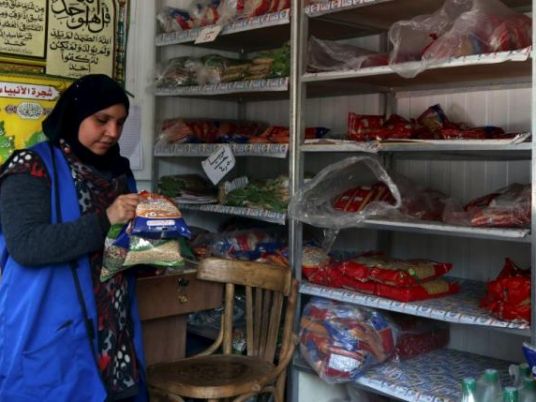 The annual food and beverage inflation rates jumped by 41.7 percent in February 2017, according to the a report by the Central Agency for Public Mobilization and Statistics (CAPMAS) on Thursday.
On a monthly basis, the inflation rate in food and drink prices rose in February by 4.1 percent, compared to 7 percent in January.
The annual consumer inflation rate recorded a total of 31.7 percent in February, compared to 29.6 percent in January, according to the report.
The significant increase in food prices contributed by about 21.6 percent to the change in annual inflation rate.
Reham al-Desouky, senior analyst at Arqaam Capital investment bank, expected the prices of food in the coming months to keep rising, driven by rising demand during the Easter holiday in April and in the month of Ramadan, when the demand for food and drink always increases.
The government is expected to raise fuel prices again next summer, which will also contribute directly to increasing food prices, because it raises the cost of transportation, Aswat Masriya quoted Desouky as saying.
Among the most prominent essential food items which recorded a rise in February: rice, up by 72.4 percent; dry bakery products, 45.8 percent; bread, 10.2 percent; pasta, 32.7 percent; and flour, 76.4 percent.
During the same period, the price of sugar rose by 70.1 percent; and jam by 53.2 percent.
Meanwhile, the price of tea also jumped by 86 percent; coffee by 50.6 percent; carbonated water by 17.1 percent; and natural juices by 47.9 percent.
Fresh and frozen meat prices rose by 40.7 percent; poultry by 26.1 percent; seafood by 30.9 percent; and processed meat by 53.8 percent. Fresh and frozen fish prices increased by 39.3 percent; whereas smoked fish prices rose by 38.5 percent.
The price of whole milk jumped by 42.9 percent; cheese by 54.8 percent; and eggs by 22.1 percent.
Cooking oils prices also increased by 76.6 percent, and margarine by 67 percent.
Potato prices hit an annual increase of 26.6 percent; onions 94.5 percent; tomatoes 30.3 percent; and dry vegetables 77.2 percent. Banana prices recorded an increase of 24.4 percent, while the price of citrus fruits went up by 68.3 percent.
The prices of various spices rose by about 49.8 percent.
The government, in the meantime, has taken a number of measures that led to increasing inflation rates over the past months. Foremost among those was the application of a VAT which was accompanied by an increase in tax rates in mid-September.
The Central Bank of Egypt also put into effect in November the flotation of the pound and partially canceled fuel subsidies.