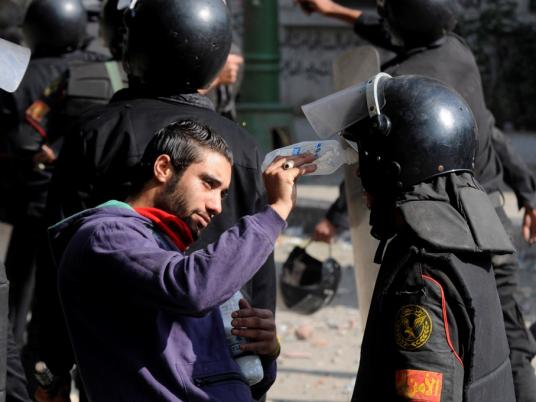 Security officials have constructed a concrete wall in Simon Bolivar Square near Tahrir Square to prevent clashes between police and protesters, Interior Minister Ahmed Gamal Eddin said Thursday.
Demonstrations against President Mohamed Morsy's constitutional declaration, which many see as a power grab, spilled onto the Corniche Thursday morning adjacent to Simon Bolivar, which also leads to the American and British embassies in Garden City.
"Rioters" attempted to prevent police from putting out three fires that broke out around the downtown square Wednesday, the ministry said in a statement, without giving details.
Gamal Eddin said that, contrary to some allegations, President Mohamed Morsy has not asked him to break up protests against the constitutional declaration.
Gamal Eddin said during an inspection tour of the area with Prime Minister Hesham Qandil Thursday at dawn that the president values efforts exerted by security forces to control the situation, exercise self-restraint and secure facilities, citizens and peaceful demonstrators.
Gamal Eddin instructed police in Simon Bolivar Square to protect peaceful protesters by apprehending anyone attempting to provoke violence and deal with them based on the law.
Twenty-three people have been arrested during clashes in the small square as they attempted to take advantage of the unrest to break into stores, Gamal Eddin said.
Edited translation from Al-Masry Al-Youm