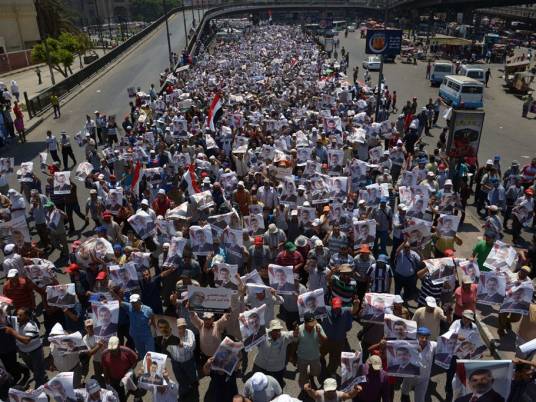 The National Alliance in Support of Legitimacy has called for mass demonstrations on Friday to demand the return of deposed President Mohamed Morsy, part of a campaign of "peaceful civil disobedience" that will continue until its demands are met, the group said.
The alliance also warned of more sit-ins in the coming few days, weeks after security forces violently dispersed two pro-Morsy protest sites in the Egyptian capital.
The alliance said in a statement released Thursday that massacres against peaceful protesters, such as those that took place at sit-ins at Rabaa al-Adaweya and al-Nahda Square, resulted in the deaths of thousands.
Civilians were burnt to death, while security forces used prohibited weaponry during dispersals, the group claimed.
The Muslim Brotherhood-linked organization called on Egyptians to recover their "stolen revolution" and to "restore their freedom."
Edited translation from Al-Masry Al-Youm