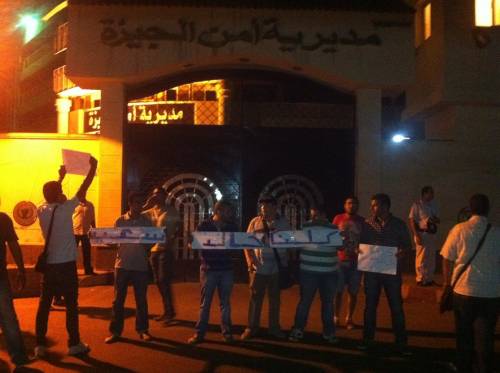 The April 6 Movement and other political forces staged demonstrations outside the Journalists Syndicate on Sunday on the occasion of its sixth anniversary.
Demonstrators chanted slogans against the military and the police, raised pictures of arrested movement members, and erected wooden prison cells and stayed inside them, totally disrupting traffic.
No police were seen in the area.
The movement's founding member Ahmed Maher, spokesperson Mohamed Adel and activist Ahmed Douma were sentenced to three years in prison and a LE50,000 fine for protesting in front of the Abdeen court, charging them with assaulting Central Security Forces, injuring six soldiers, showing force outside Abdeen court, staging a protest without notice, assembling, suspending traffic and sabotage.
The April 6 Movement stepped up activities following the controversial protest law passed by the interim government restricting freedom of assembly by requiring protests to receive prior authorization from the Interior Ministry.
The UN, EU and United States all criticized the law, stressing that fundamental human rights must be respected in the crucial time of transition.
Foreign Ministry Spokesperson Badr Abdel Aaty quickly lashed back at the criticsim. "It's unacceptable that any country intervenes within local Egyptian affairs," he said. "It's normal that all countries, especially major ones, pay attention to the development of a country like Egypt, but this does not permit the violation of certain lines or comment on decisions related to local issues."
Edited translation from Al-Masry Al-Youm