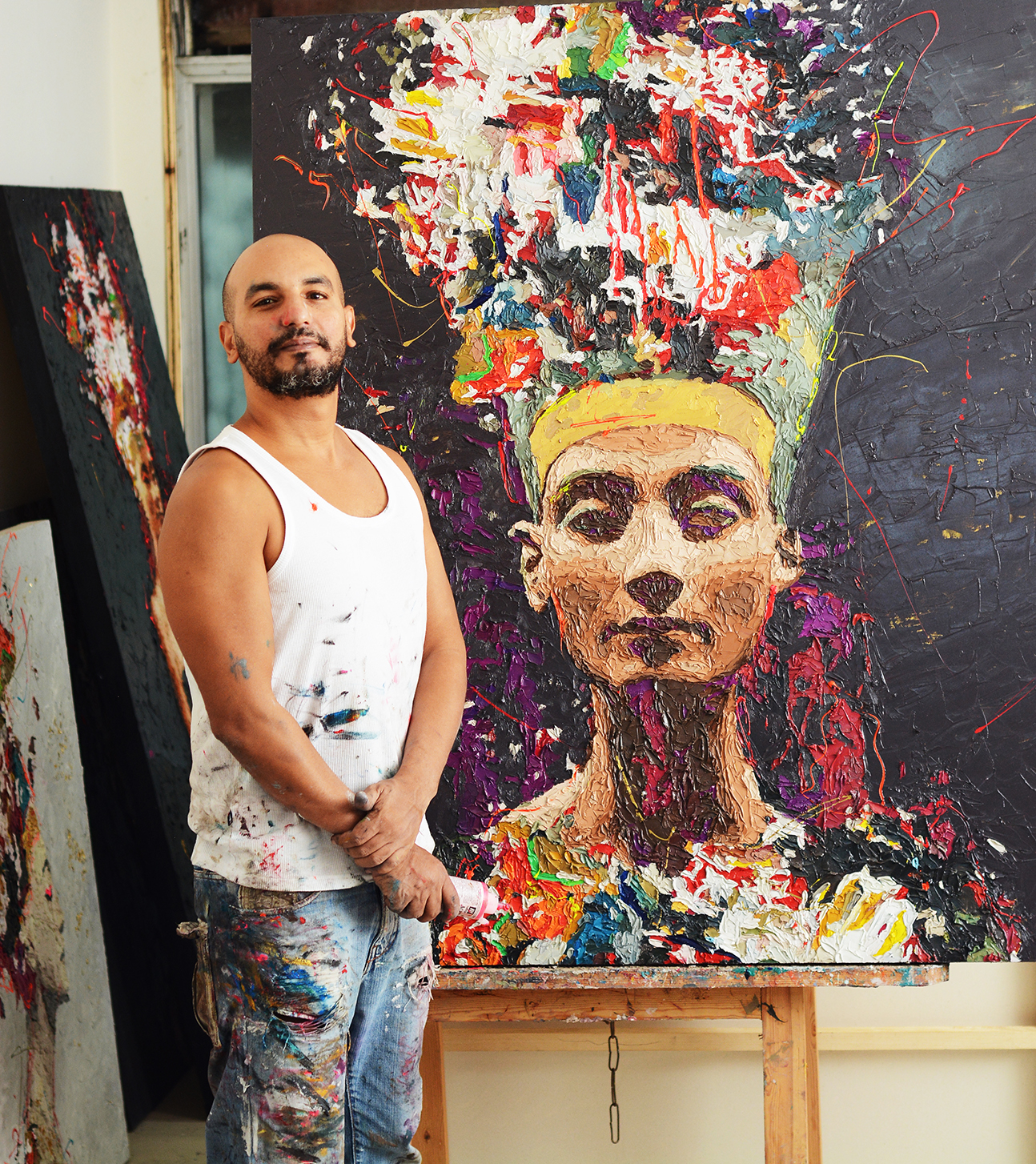 Egyptian artist Hossam Dirar has opened up a new exhibition centered around Queen Nefertiti in Zamalek, aiming to honor not just the historical figure but modern Egyptian women as well.
"After living in Barcelona for three years now, I've become more appreciative towards Egyptian history, thus, I portrayed the pride I feel for it in my "Nefertiti" series," Dirar told Egypt Independent.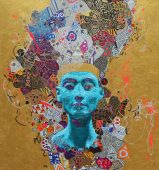 'Nefertiti' is a series of 25 oil paintings, viewed by Dirar as a modern take on the ancient Egyptian queen who has been seen as icon of female empowerment. Queen Nefertiti is embodied in Dirar's repertoire of paintings through modern poses, accessories and daring colors.
Dirar's exhibitions are usually themed around concepts that arouse questions that delve into cultural identity, gender roles, political ideas and more. Dirar relies on the colorful brushstrokes mess to give his art a wild impression, yet with a well-defined look creating his own sensational technique; organized chaos.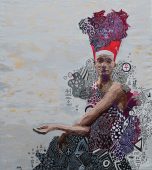 Treading the line between a victorious grasp of the ancient Egyptian history with the rosiness of the Egyptian women's future, Dirar's Nefertiti is painted with dignity and pride.
The aritst explained to us where the name "Nefertiti" comes from, saying that it translates as "the beautiful one has come", while the part "nefer" specifically means more than just beauty.
When asked about Nefertiti's role in this series, Dirar explained that the character of the mysterious beautiful queen is powerful enough to push Egyptian women out of the shadow, enforcing her significant philosophy that was fueled by the women's unlimited strength despite all the surrounding stereotypical traditions.
He referred to Nefertiti's brilliance in merging prosperous leadership and motherhood at the same time.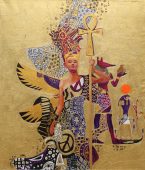 Dirar has been always greatly passionate towards female freedom and rights, and so he couldn't find a better model to signify this passion than Queen Nefertiti.
The artist trusts art to display women's personalities on canvas in a way that credits their contributions to civilization.
He revealed his primary inspiration that prompted him to bring Nefertiti in this contemporary look, "Years ago I went to the Berlin's Neues Museum to see the statue of Nefertiti for the first time in my life. I was fascinated by this iconic ancient image, the bust of Queen Nefertiti is an enduring symbol of grace, beauty, cultural heritage."
"The mysterious beauty of the Egyptian Queen left me curious and inspired to bring her back into present as she still is an astonishing personality. After visiting the museum, I spent years learning about the ancient queen," he added.
Digging more into her personal and vocational life, beliefs and accomplishments gained him a sufficient knowledge that motivated him reintroduce her in a modern look , seeting to fascinate society with her rich history.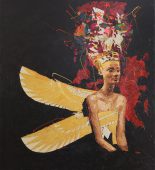 "I want her to symbolize the future, not the past! All of her clothes and colors I use for the paintings are very modern," he said.
Dirar paid homage to Gustav Klimt, the renowned Austrian artist, whose dominant color was gold in most of his painting, showcasing Klimt's fascination with ancient Egyptian culture.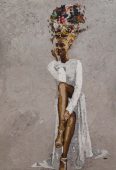 "When I paint, I don't use a brush and prefer to improvise by applying oil paint mixed with phosphoric colors to a surface of the canvas with the blade of a knife. Thick, dramatic strokes help to achieve rich texture and add another dimension," Dirar said talking about his favorite technique regarding it as an added value in his artistic projects.
Dirar is stirred by the hieroglyphs captured in ancient temples including the significant  key of life, rectangular signs, triangles and more.
He want to draw attention for the existence of  the captivating ancient culture by exposing the ancient Egyptian calligraphy in his art.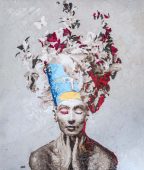 Looking to the future, Dirar expressed a desire to exhibit this series during the opening of Egypt's Grand Museum.