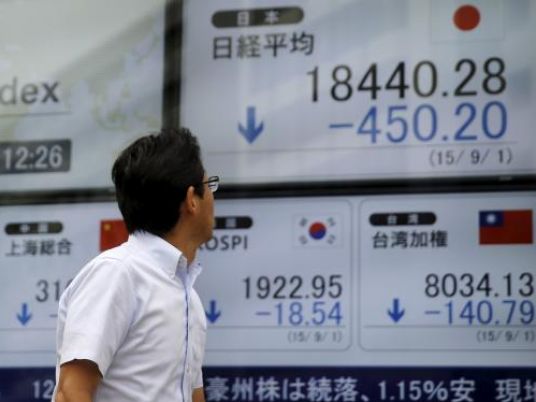 Asian shares slipped to one-month lows on Tuesday as the specter of higher borrowing costs in the United States and slower global economic growth haunted riskier assets.
Spreadbetters expected a subdued start for Europe in the wake of Asia's sluggish performance, forecasting a mildly higher open for Britain's FTSE, Germany's DAX and France's CAC.
MSCI's broadest index of Asia-Pacific shares outside Japan fell 1 percent. South Korea's Kospi dropped 1.6 percent and Hong Kong's Hang Seng shed 1.2 percent.
Japan's Nikkei fell 0.3 percent from a 2 1/2-month high hit on Monday, though it did manage to trim earlier losses.
"Share prices recovered quite a lot (last month). The rally is coming to a end for now as markets try to price in a Fed rate hike in December," said Takeru Ogihara, chief strategist at Mizuho Trust Securities in Tokyo.
Data on Tuesday showed China's consumer inflation moderated more than expected in October, flagging persistent deflationary pressure in the world's second-largest economy.
The numbers followed disappointing Chinese trade figures over the weekend.
Soft China data often fuels expectations for more of the stimulus measures that have tended to underpin Chinese shares.
"Today's data point to intensifying deflation risks in the Chinese economy which warrant more policy easing. We forecast more monetary easing including another 100 basis points (bps) reserve ratio cut for the rest of 2015. We forecast another 25bps policy rate cut and 200bps reserve ratio cut in 2016," wrote Jing Li, an economist at HSBC.
Shanghai stocks pared earlier losses and were last up 0.4 percent, led by financials that shored up last week's rally.
Fed hike worries
Surprisingly strong US jobs data published on Friday dramatically changed investors' perception on the Federal Reserve's monetary policy track, with money market futures pricing in the likelihood of a rate hike next month at more than 70 percent.
The two-year Treasuries yield hit 5-1/2-year high of 0.958 percent on Friday and was last at 0.870 percent.
Higher US interest rates make parking funds in the dollar more attractive than at present, especially as some of the dollar's major rivals such as the euro have negative interest rates.
A consensus is forming at the European Central Bank to take the interest rate it charges banks to park money deeper into negative territory in December, four governing council members told Reuters.
Such a divergent policy outlook helped to cap the euro and lift the dollar, although the dollar slipped slightly on Monday from profit-taking after making sharp gains on Friday.
The dollar's index pulled back to 99.075 from Friday's seven-month high of 99.345.
Against the yen, the dollar eased to 123.17 yen from a 2 1/2-month high of 123.60 set on Monday.
The euro ticked up to US$1.0743 from Friday's 6-1/2-month low of $1.0704.
Still, the euro remains vulnerable as Portuguese government bond yields hit a four-month high and shares fell after leftist parties reached agreement on forming an alternative government to try to oust the center-right.
Elsewhere a firmer dollar put pressure on precious metals.
Gold stood at $1,092.20 per ounce, near its three-month low of $1,085.50 while silver dropped to one-month low of $14.48 per ounce on Monday.
Copper fell to a six-week low of $4,940 per ton, hit also by concerns about demand from China.
Crude oil showed losses for a fourth straight day on Monday on news of fresh build-ups at the delivery point for US crude futures.
Brent crude last traded at $47.38 a barrel, having slipped more than 7 percent from last week's high.