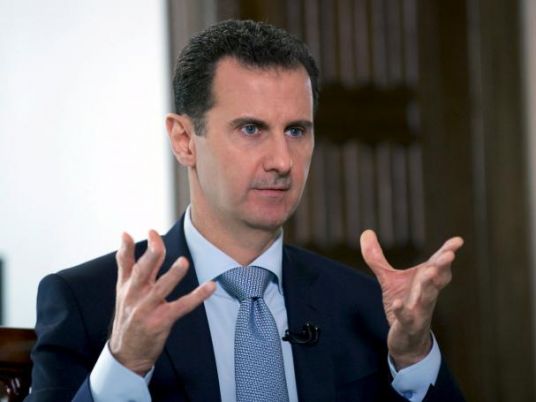 He's been stigmatized internationally, a contentious figure presiding over a ruinous civil war that seems to slip into further depravity every day. But in his power base in the Syrian capital, President Bashar Assad projected confidence — conceding nothing to his critics, and accusing the U.S. of derailing a cease-fire and lacking the "will" to fight extremists in his country.
In an interview with The Associated Press, Assad rejected U.S. accusations that Syrian or Russian planes struck an aid convoy in Aleppo this week and that his troops were preventing food from entering the city's rebel-held areas. He maintained deadly airstrikes by the U.S.-led coalition on Syrian troops last weekend were intentional, dismissing American officials' statements that they were an accident.
In Washington, the State Department countered that Assad's assertions were "ridiculous."
While acknowledging that the war will "drag on" indefinitely as long as his opponents were still receiving external support from countries like Turkey, Saudi Arabia and Qatar, Assad said Syria will bounce back as a more unified state, and pledged to rebuild the ruined country and even welcome back refugees if assistance to the insurgents were to stop.
Assad, who inherited power from his father and is now in his 16th year in office, cut a confident figure during the interview Wednesday — a sign of how his rule, once seriously threatened by the rebellion, has been solidified by his forces' military advances and by the year-long air campaign by his ally Russia, which has turned the tables on the battlefield. In Damascus, the seat of Assad's power, where life goes on nearly as normal and the six-year-war feels like a distant inconvenience, many cling to his rule, fearing the alternative.
World leaders, including the United States and Turkey, have quietly walked back their calls for Assad's immediate departure, focusing instead on fighting the Islamic State group, which flourished in the chaos of the country's conflict.
The sense of detachment projected by the 51-year-old Assad was striking. While acknowledging some mistakes, he denied any excesses by his troops and claimed the rebel-held parts of Aleppo, Syria's second-largest city, weren't really under siege.
"If there's really a siege around the city of Aleppo, people would have been dead by now," Assad said, and questioned how rebels were able to smuggle in arms but apparently not food or medicine.
The ancient city, which has become both a symbol of resistance and the high price that civilians are paying in the war, has been carved into rebel- and government-controlled areas since 2012. It's eastern, rebel-held neighborhoods are encircled by government forces and there are reports of malnutrition and severe shortages of food and medical supplies.
The U.N. has accused Assad's government of obstructing aid access to the city, despite an agreement to allow aid in during the weeklong cease-fire that ended Monday. During the brief truce, trucks carrying aid sat idle on the nearby Turkish border, awaiting permits and safety guarantees.
Throughout the conflict, Assad's forces have been accused of bombing hospitals and civilians and choking opposition-held cities. Millions have fled Syria, some drowning at sea in the Mediterranean while trying to reach safety.
Assad denied any hospitals were purposely targeted. "They accuse Syria of attacking hospitals, so you have hospitals and you have doctors and you have everything. How could you have them?"
The war has been defined by gruesome photos and video posted in the aftermath of bloody attacks or documenting the plight of children in particular. Hundreds of thousands of people have been killed, and once-thriving cities have been ravaged, with entire blocks reduced to rubble. The images have galvanized public opinion worldwide — but Assad, while acknowledging that the war had been "savage," said the accounts should not be automatically believed.
"Those witnesses only appear when there's an accusation against the Syrian army or the Russian (army), but when the terrorists commit a crime or massacre … you don't see any witnesses," he said. What a coincidence."
State Department spokesman John Kirby, commenting on Assad's assertions, said: "It's difficult to see how these ridiculous claims deserve a response, except to say they prove yet again the degree to which Assad has lost his legitimacy to govern and how vital it remains for the international community to achieve a political solution that gives the Syrian people a voice in their future."
Syria and the United States have been at loggerheads since an airstrike by the U.S.-led coalition that hit Syrian troops in the eastern province of Deir el-Zour on Saturday. U.S. officials said the attack — the first direct hit on Syrian forces since the civil war began — was accidental and that the warplanes intended to target Islamic State group positions. Russia said the strikes killed more than 60 Syrian troops, and afterward, IS militants briefly overran government positions in the area until they were beaten back.
Assad dismissed the U.S. account, saying the attack targeted a "huge" area for more than an hour.
"It wasn't an accident by one airplane… It was four airplanes," Assad said. "You don't commit a mistake for more than one hour."
Assad also flatly rejected U.S. accusations that Syrian or Russian planes carried out an attack on an aid convoy on the outskirts of Aleppo that killed 20 people, many of them aid workers.
The strike late Monday hit a warehouse as aid workers unloaded cargo, triggering huge explosions. Footage filmed by rescuers showed torn flesh being picked from the wreckage. Witnesses described a sustained, two-hour barrage that included barrel bombs — crude, unguided explosives that the Syrian government drops from helicopters.
A U.S. official said the U.S. believes with a very high degree of confidence that a Russian-piloted aircraft carried out the strike. The official wasn't authorized to speak publicly on the matter and asked for anonymity.
Assad dismissed the claims, saying whatever American officials say "has no credibility" and is "just lies." Like Syria, Russia has denied carrying out the convoy bombing.
Assad also scoffed at the idea that Syria's "White Helmets" — civil defense volunteers in opposition held areas seen by many as symbols of bravery and defiance — might be considered for a Nobel Peace Prize after a nomination earlier this year.
"What did they achieve in Syria?" he said. "I would only give a prize to whoever works for the peace in Syria."
The group shared this year's Right Livelihood Award, sometimes known as the "Alternative Nobel," with activists from Egypt and Russia and a Turkish newspaper, the prize foundation announced Thursday.
Asked about his methods, including the use of indiscriminate weapons, Assad said there's no difference between bombs: "When you have terrorists, you don't throw at them balloons, or you don't use rubber sticks. … You have to use armaments."