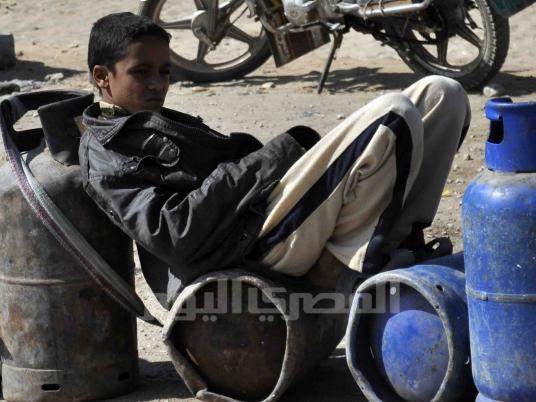 The 1.3 million liquefied petroleum gas (LPG) cylinders available nationwide for the month of February exceeds market needs by 10 percent, said the Egyptian General Petroleum Authority (EGPA) Wednesday. The EGPA said the black market was responsible for distribution problems that led to shortages in some governorates.
EGPA head Hani Dahy told Al-Masry Al-Youm that the number of LPG cylinders made available this month was at a "record high as compared to the same month last year." He added that factories and companies are running at full capacity to meet the growing demand for LPG.
Dahy went on to say that he believed the demand for LPG would greatly decrease by the end of this month, which, as the last month in winter, is the month with the highest demand for LPG.
Meanwhile, EGPA sources said they expected LPG imports for February to exceed 200,000 tons, as compared to 160,000 tons in January due to increased demand this month, and the EGPA's efforts to secure market needs for LPG.
One source said "this increase will be reflected in increased government spending to finance LPG imports, as the cost per ton ranges between US$950 to US$1.000, and the total import costs for the EGPA amount to LE6,600 per ton."
Hossam Arafat, head of the General Division of Petroleum Products at the Federation of Chambers of Commerce, said the shortage in LPG cylinders has declined after workers from Botagasco Company returned to work.
Arafat added that the workers strike at Botagasco Company exacerbated the shortage in LPG cylinders. He pointed out that pumping in additional quantities, as well as rising temperatures, would end of the crisis within days.
Translated from Al-Masry Al-Youm