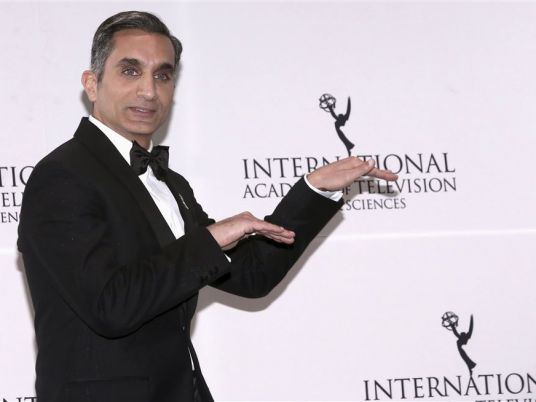 Political satirist Bassem Youssef shined in his performance as host of the 43rd International Emmy Awards on Monday in New York, making history as the first Arab to host the event.
"When people get together to celebrate art and creativity and the best of what the human race can aspire to, we find our capacity to heal and to grow," said Youssef, who is dubbed as the "Jon Stewart of the Arab world".
"When we laugh and do what we do here tonight, those evil bastards lose," he stated, referring to attacks by the Islamic State in France, Lebanon and Mali. "It is brutal, it is horrible and it is unfair," he said of the attacks.
Youssef had declared he would also host the closing ceremony of the Carthage Film Festival in Tunisia on November 28.
Youssef's AlBernameg TV show was suspended in 2014, allegedly because of the government's pressure on MBC Masr channel to censor the show. During the show's three-year broadcasting, Youssef succeeded in introducing "political sarcasm" to an Egyptian audience in a quest to raise people's awareness and shatter the media's stereotypical approach to the news.
Youssef is a resident fellow at the Harvard Institute of Politics at the John F Kennedy School of Government. In April he received the Silver Medal for Best TV Host in the World at the 2015 New York Festivals.