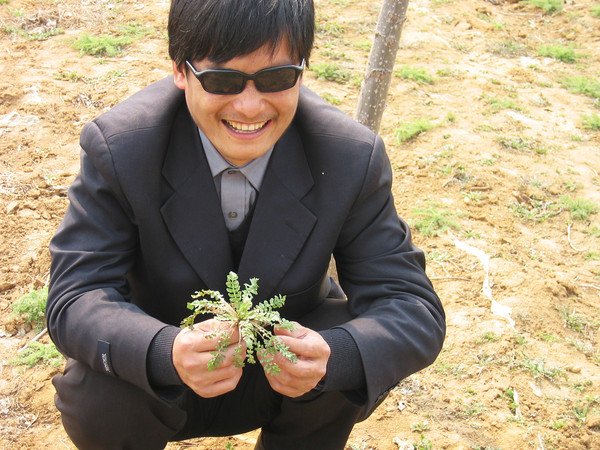 BEIJING — A blind Chinese legal activist at the center of a diplomatic tussle between Washington and Beijing left the US Embassy on Wednesday after six days inside, following what US officials said were assurances from China of his safety.
Chen Guangcheng's departure from the embassy came shortly after US Secretary of State Hillary Clinton arrived in Beijing for two days of annual strategic talks that are being overshadowed by the self-taught lawyer's fate.
Chen left the embassy accompanied by the US ambassador and went to the Chaoyang Hospital, where he was to receive medical treatment. On the way he called his lawyer, Li Jinsong, who said Chen told him: "'I'm free. I've received clear assurances.'"
Chen also received a call from Clinton, whom he thanked in Chinese for raising his case, a US official said. Chen then told Clinton in halting English, "'I want to kiss you,'" the official said.
Chen, who ran afoul of local government officials for exposing forced abortions and other abuses, escaped from 20 months of house arrest in his rural town last week, fleeing into US hands and setting up the most delicate diplomatic crisis in years for the two governments.
As part of the agreement that ended the fraught, behind-the-scenes standoff, US officials said China agreed to let Chen receive a medical checkup, be reunited with his family at the hospital, and he would then be relocated to a safe place in China where he could study at university — all demands activists said Chen had raised.
In a fit of face-saving pique, the Chinese Foreign Ministry demanded that the US apologize, investigate how Chen got into the embassy and hold those responsible accountable.
The apparent resolution shelves, at least for now, a predicament that threatened to move human rights to the front of a US-China agenda crowded with disagreements over trade imbalances, North Korea and Syria. With Chen out of the way, Clinton, Treasury Secretary Geithner and their Chinese counterparts can focus on the original purpose of their two-day talks starting Thursday: building trust between the world's superpower and its up-and-coming rival.
Yet the deal is fraught with risks, particularly for the US.
By taking in an activist even for only a few days, Washington will be seen by Beijing to yet again be meddling in Chinese domestic affairs — and encouraging others to follow suit. If Chen and family stay on in China, Washington will now be seen as a party to an agreement on their safety that it does not have the power to enforce.
US officials, speaking to reporters on customary condition of anonymity, said the US gave unspecified assistance getting Chen into the embassy because he injured his leg escaping from his village. In the embassy, Chen did not request safe passage out of China or asylum in the US, said one of the officials.
"Mr. Chen did not request safe passage to the United States to seek political asylum," said one official.
Asked if the US would apologize as Beijing demanded, the official said, "This was an extraordinary case involving exceptional circumstance, we do not anticipate that it will be repeated."