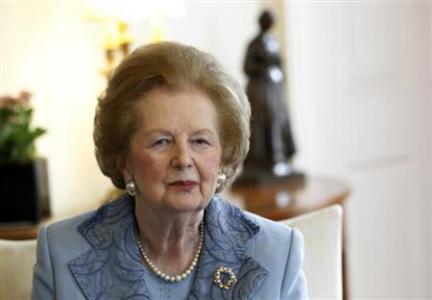 London stages its biggest political funeral in almost half a century on Wednesday when Britain's governing elite join the Queen and global leaders to bid farewell to former Prime Minister Margaret Thatcher, known as the "Iron Lady."
In an event comparable to that of Winston Churchill's funeral in 1965, Thatcher's coffin will be carried atop a horse-drawn gun carriage through streets lined with admirers, and some detractors, from parliament to the city's most famous cathedral.
"She was the first woman prime minister, she served for longer in the job than anyone for 150 years, she achieved some extraordinary things in her life," Prime Minister David Cameron, leader of Thatcher's Conservative Party, told BBC radio.
"I think what is happening today is absolutely fitting and right," he said, dismissing concerns by some Thatcher critics about the cost and pomp of the event.
The bells of London's iconic Big Ben clock tower will fall silent in tribute for the first time since Churchill's funeral and more than 700 armed forces personnel will honor a woman who led them to victory in the 1982 Falklands War.
Guns will fire from the Tower of London every minute while the procession is under way.
Thatcher, who governed Britain from 1979 to 1990, died on 8 April after suffering a stroke.
In life, the woman the Soviets christened the "Iron Lady" divided the British public with her free-market policies which sometimes wrought wrenching change on communities. In death it is no different.
People gathered along the funeral procession route early in the morning with placards that reflected a range of views.
"You gave millions of us hope, freedom, ambition," read a placard held up by one man, while a short distance away another man held one that read: "Over 10 million pounds of our money for a Tory funeral." Tory is another word for Conservative.
Polls have shown that many are unhappy that the estimated 10-million (US$15 million) pound bill for the funeral is being picked up by the taxpayer, while some left-wing lawmakers say the pomp-filled funeral is excessive.
But her admirers, of which there are many in her party and in southern England, argue that she merits such a funeral.
"Some people say she divided the country: but if she was so divisive, how did she win three elections?" said Joseph Afrane, 49, a security officer from south London, who wore a cowboy hat, jacket, shoes and even watch emblazoned with the British flag.
'I vow to thee my country'
More than 2,300 mourners will attend including 11 serving prime ministers from around the world, the British government's entire cabinet, two heads of state and 17 foreign ministers.
But there will be notable absences. Former Soviet leader Mikhail Gorbachev and Nancy Reagan, the widow of Thatcher's great US ally Ronald Reagan, are too frail to attend.
Thatcher struck up a close relationship with Reagan during the Cold War and was among the first to decide that Gorbachev was a man she could "do business with."
The guest list for her funeral has prompted talk of diplomatic snubs. A spokesman for Cameron denied the United States had snubbed Britain by not sending anyone senior from the administration of President Barack Obama.
The Argentine ambassador refused to attend after Britain said it wouldn't be inviting Argentine President Cristina Fernandez, following a request from the Thatcher family, amid increased tensions over the contested Falkland Islands.
Relations between the two countries remain strained after a 1982 war over the South Atlantic islands which Thatcher ordered a task force to retake after Argentine troops seized it.
Mourners at the funeral will hear her favorite hymns including the well-known early 20th century celebration of British patriotism "I vow to thee my country."
St Paul's, the 300-year-old cathedral where her funeral will take place, played host to the funerals of Nelson, the Duke of Wellington and Churchill as well as to the wedding of Prince Charles and Lady Diana Spencer.
The abiding domestic images of her premiership will remain those of conflict: huge police confrontations with mass ranks of coalminers whose year-long strike failed to save their pits and communities; Thatcher riding a tank in a white headscarf; and flames rising above Trafalgar Square in the riots over the deeply unpopular "poll tax" which contributed to her downfall.
But Cameron said that Thatcher's battles, particularly her crushing of trade unions that dramatically reduced the number of days lost to strikes, had in fact reduced divisions.
"She was a bold politician who recognized the consensus was failing … She took tough and necessary decisions and in many ways created a new consensus … So in the end the breaking of the mould … led to less division, less strife," he said.
Even Thatcher's critics concede that — for better or for ill — she transformed the face of Britain.
In 1979, when she came to power, Britain was in the grip of a long post-war decline with notoriously troubled labor relations, low productivity and was being outperformed by continental rivals France and Germany.
Data show she turned that around by boosting home ownership and the service industry, breaking the power of the unions, and deregulating financial services.
But the price — growing inequality and the closure of large swathes of the country's industrial base — left parts of the country struggling to create new jobs and rebuild decimated communities, leaving a bitter taste which endures.