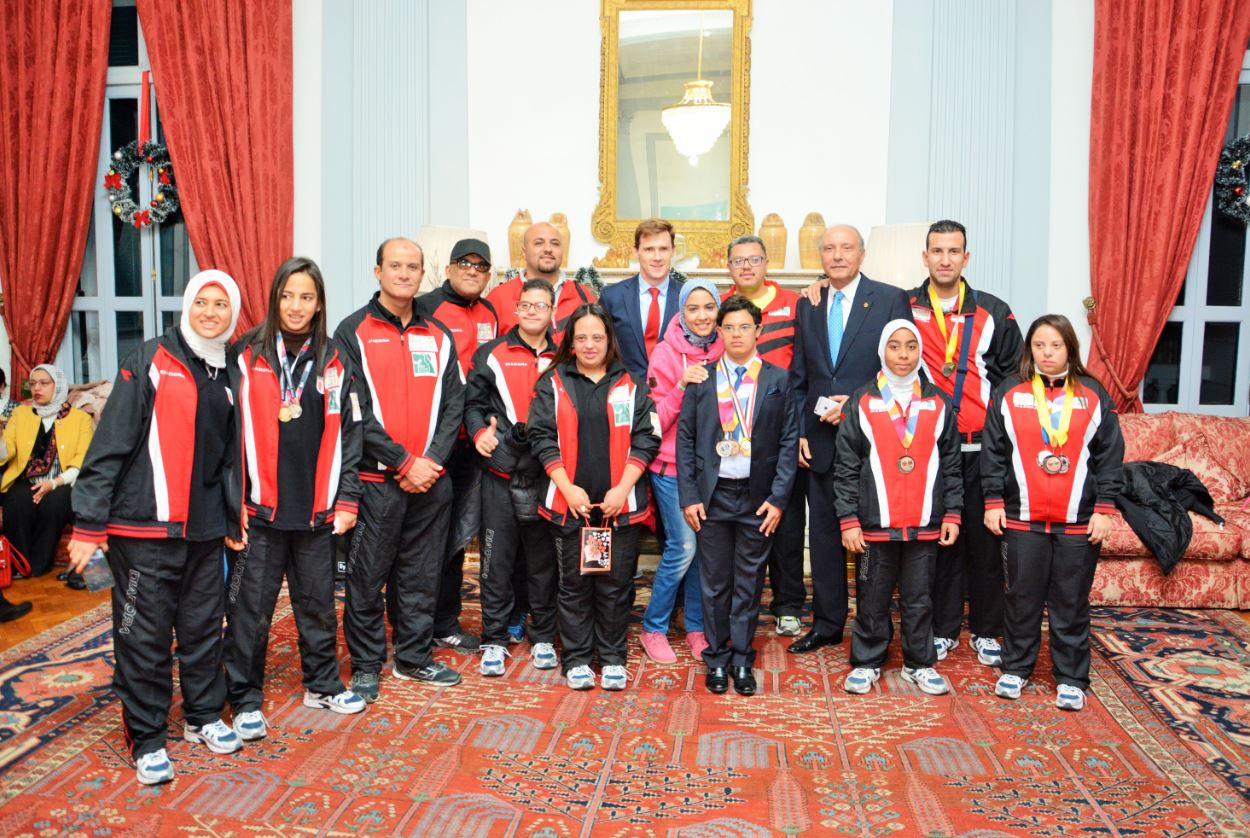 The British Ambassador to Egypt John Casson launched a new campaign in an effort to integrate people with disabilities into society and celebrate their achievement. 'Zaye Zayak', which translates to 'Inspiring Abilities' was launched in an event celebrating people with disabilities as well as organizations which support them.
Also in attendance were Minister of Local Development Hesham al-Sherif, MP Heba Hagrass, the founders of the Helm Foundation, Amena al-Saie and Ramez Maher, and the Head of Egyptian Mission at Handicap international, Celine Abric.
The event aimed to highlight the efforts of organizations and social entrepreneurs to improve the lives of people with disabilities in Egypt using technological advances. The projects focused on several themes such as accessibility in everyday life, social inclusion, education, and employment opportunities for people with disabilities in Egyptian society.
Beyond social organizations, major businesses such as Unilever and Vodafone were recognized in the event for implementing social responsibility programs which aimed to promote the rights of people with disabilities in the workplace.
During the event, Ambassador Casson emphasized the importance of people with disabilities in society.
"Tonight, we launch a new campaign to celebrate the role Egyptians with disabilities play in society, and to support the organizations giving them opportunities to succeed."
"Egypt has inspirational role models of disabled people playing a leading role in society and the economy," he continued. "The time has come to focus on abilities and possibilities, not just the disabilities and obstacles that hold people back, because the successful countries in the twenty-first century will be the ones that give opportunities to all.''
Ten exhibitors are taking place in the campaign, most prominently Vodafone and Unilever, but also Helm Foundation, Handicap International, Ta2heel (Preparation) which provides learning platforms for children with disabilities, Iqraaly, an audiobook application, and VIMS, which focuses on accessibility of everyday life to visually impaired people, among others.
'Zaye Zayak' is part of the British Embassy's 'Inspire Egypt' campaign, which aims to shed light on successful Egyptians in all fields; not only does it aim to recognize them, but it invests in their potential to make a practical difference in Egypt.
As part of Inspire Egypt, the British Embassy hosts different events focusing on examples of innovative and inspiring Egyptians in various fields including agriculture, education, and sports, as well as social enterprise and promoting gender equality.
People with disabilities face disproportionate problems in their everyday lives, from the lack of accessibility in most places to discrimination in the workplace.
According to research conducted by the Cornell University in 2002, approximately 3.5 percent of the Egyptian population has a disability.  However, current services that the government provides accounts for only 10 percent of the people with disabilities.
In education, government services account for only 4 percent of children with disabilities.
By 2008, an article by Mohamed Sadek, an associate law professor at the civil law department of Cairo University, revealed there were 5.7 million people with disabilities, the majority of which did not have their rights respected. Sadek said while there are laws for people with disabilities, but that the implementation isn't there.