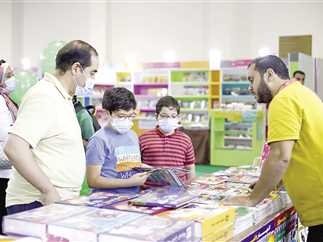 The first day of the 52nd Cairo International Book Fair (CIBF), held under the title "In reading is life", saw 72,000 visitors attend its the exhibition halls – all while adhering to precautionary measures approved by the state.

Culture Minister Enas Abdel Dayem praised the public's strong commitment to the precautionary measures imposed, stressing that this volume of visitors on the first day showcases how eagerly people enjoy reading.
She expressed her happiness in holding this session despite the challenges.
The "Your Culture is Your Book" initiative launched by the culture minister also  witnessed a large turnout of visitors, as the prices of books under the initiative ranged between one pound and LE 20 pounds, CIBF Chairman Haitham al-Hajj said.
Demand for publications by the General Egyptian Book Organization was high, he said, while the turnout of visitors to the wings of the General Authority for Cultural Palaces and Dar Al-Iftaa and demand for educational books for children were also high.

The visitors praised the organization's layout which allowed easy access to the pavilions, whether through the map on the platform or the guiding maps around the place, as well as the assistance provided by the volunteers deployed to guide the public and ensure that everyone adheres to the precautionary measures.