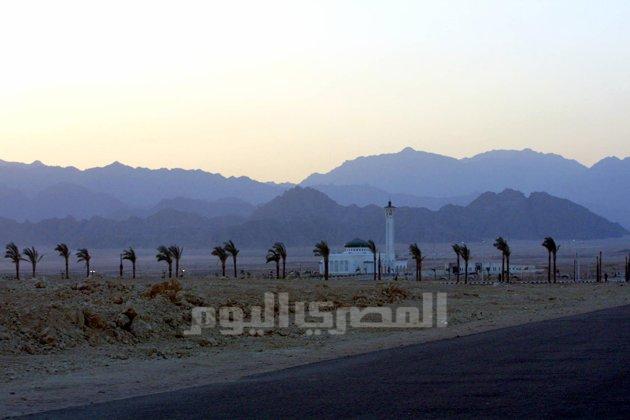 The rumors began only a few days into the Israeli attack on Gaza, with whispers on Facebook that Palestinians fleeing a potential Israeli land invasion in the strip would seek refuge in a tent city constructed for them by the Egyptian army in North Sinai.
But the circulation of this rumor predates the most recent Israeli eight-day attack on the Gaza Strip in November that claimed more than 160 lives. Last June, Bedouin activist Mosaad Abu Fajr suggested that there exists a plan to move half of Gaza's 1.3 million population to Sinai, and that Palestinians have been buying up land north of Arish.
He and others, opposed to the rule of the Muslim Brotherhood, see a danger in the organic ties between the incumbent group in Egypt and the Islamist movement Hamas which rules the neighboring strip.
Back in November, daily newspaper and staunch critic of the Brotherhood Al-Watan adopted the cause, announcing its "Sinai is for Egyptians" campaign.
While presenting a common pan-Arab rhetoric supporting the Palestinian cause, the two-page spread was filled with the xenophobic, "not in my backyard" panic typical of tabloids everywhere in their treatment of foreigners on home soil. In the particular case of Palestine, that discourse is reminiscent of the era following the peace accords, when the Hosni Mubarak ruling regime — much like other regimes in the region — engineered and promoted the "Egypt first" line.
In particular, the campaign exemplifies researcher Oroub El-Abed's observation that, "as a weak and vulnerable community," Palestinians in Egypt are "at the mercy of shifts in government policy and public opinion triggered by external events in which they had no role."
The Al-Watan campaign is premised on reports from tribal chiefs in Sinai, who report that they were approached by the army and asked for their opinion about the establishment of camps in North Sinai to receive Palestinian refugees.
"We will prevent Gazans from populating our land, even if blood has to be shed," the chiefs declare in one headline. The army has denied these rumors, but the media campaign targeting Palestinians continued.
What seems to have escaped popular memory is that a Palestinian refugee camp existed in Sinai for 30 years, and that when there was a choice, the Palestinians opted to return back home.
Canada Camp came into existence when Israel demolished the homes of residents in Rafah in the early 1970s and relocated them to a former Canadian contingent camp in Sinai, under Israeli occupation at the time.
When Egypt and Israel signed the Camp David Accords and Israel withdrew from Sinai in 1982, the nearly 500 families living in the camp found themselves refugees once again.
Forty-five-year-old Mohamed Awad, who lived in Canada Camp, describes how barbed wire was put on the border between Sinai and Gaza, and camp residents who had previously been able to cross into Gaza for employment were prevented from doing so.
"In 1982, people in Canada Camp were able to shake hands with people in Gaza on the border, but then Israel objected, so they made a 10-meter distance between the two fences," Awad recalls.
Israel eventually expanded the distance between the two fences to 40 meters. In a study on the Canada Camp, author Ron Wilkinson describes how families, cut off from friends and relatives, made appointments to meet at the fence and shout across the border. Children and grandchildren would be held up for relatives to see.
Forty-nine-year-old Khedr Hussein describes this.
"The camp is close to the borderline. Friends, families and neighbors in Gaza used to come near the fenced wire and call for a family name residing on the other side of the border. When we heard our family name, we would go meet them and have long chats," Hussein says.
Unable to work legally in Egypt, camp residents relied on United Nations aid and income from manual labor. University students had to pay tuition fees in dollars or pounds sterling.
The situation worsened after the 1990 Gulf crisis, when thousands of Palestinians employed in the Gulf — some of whom had supported families in Canada Camp — lost their jobs.
Wilkinson says an anomaly caused by the large number of men who left the camp to work or study or were deported by the Egyptian authorities left many women unable to find marriage partners, providing another reason for why they were impatient to return to Gaza.
A mechanism for the return of refugees to Gaza was established in 1989. Egypt agreed to pay each family US$8,000, an amount later increased to $12,000, to construct a new home, and Israel provided 200 square metres of land in Gaza.
When a family had been approved by the Israeli authorities, its head, sometimes accompanied by a son, would enter Gaza and began construction of the new home, returning to Canada Camp during the weekend. Families discovered that the $12,000 given to them for construction was not nearly enough to cover building costs, which were closer to $70,000.
Funding problems meant that some families waited 18 years to return to Gaza; the last family entered in December 2000.
Quoted in Wilkinson's 2001 report, camp resident Ali Ibrahim said, "In Canada [Camp] the situation is bad … the problem in Canada is that it's a temporary situation. As long as you think you're leaving, you put off making decisions … I don't care about the political situation [in Gaza]. I know the economic situation is difficult. But Arabs need family relationships."
Former Canada Camp resident Jamil Kullab, meanwhile, is quoted in the report as saying that the 16 months in Gaza after his return had "been better than any time in the past 18 years."
"We were strangers in Egypt," Kullab is quoted as saying. "We have a good life here, and we all have Palestinian identity cards."
Hussein echoes this.
"No one in Gaza is ready to go and live in Sinai. Even if death awaits us here, we will stay in our houses. We won't leave again," he says.