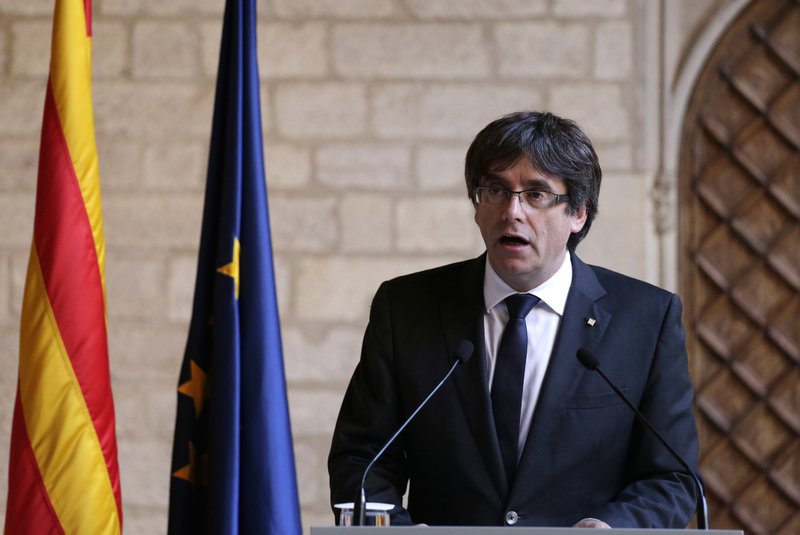 Catalonia's ousted regional president will give a news conference in Brussels on Tuesday, European officials said, as speculation mounted that he might seek political asylum in Belgium and try to avoid possible prosecution in Spain for declaring Catalan independence.
Carles Puigdemont arrived in Brussels on Monday, the same day that Spanish prosecutors announced they were seeking rebellion, sedition and embezzlement charges against him and other Catalan officials.
European officials, speaking on condition of anonymity because of the sensitivity of the matter, said that Puigdemont would speak publicly in Brussels at around 12 p.m. (1100 GMT; 7 a.m. EDT).
Over the weekend, a Belgian government official said that it wouldn't be "unrealistic" for Puigdemont to request asylum.
Spanish Foreign Minister Alfonso Dastis said that the central government in Madrid would be surprised if Puigdemont sought asylum in Belgium and were granted protection there.
Dastis told Spain's Cadena SER radio that there is a level of "reciprocal trust" about the rule of law among members of the European Union.
"It would be surprising that he could receive the right to asylum under the current circumstances," Dastis said, adding that the acceptance of an asylum petition "would not be a situation of normality" in relations between the two countries.
Belgium allows asylum requests by citizens of other European Union nations, and in the past, some Basque separatists weren't extradited to Spain while they sought asylum, causing years of friction.
Spain took control over prosperous northeastern Catalonia this weekend after Puigdemont led the regional parliament to proclaim a new republic on Friday.
The Spanish government immediately sacked him and his Cabinet, dissolved the regional parliament and called a new Catalan election for Dec. 21.
One of the main separatist civil society groups of Catalonia, the National Catalan Assembly, said Tuesday it accepted the regional election, despite the fact it was called under the Spanish government's intervention.
The group, whose leader is in jail on provisional sedition charges, is not a political party but it has been the driving civic force behind the independence movement in recent years.
It said grassroots organizations need to prepare a "joint strategy" ahead of the elections with the goal of "obtaining an uncontested victory that will ratify the Republic."
Meanwhile, some of the official websites of the Catalan government tied to the previous administration were down Tuesday, in a further sign of the takeover by central authorities.