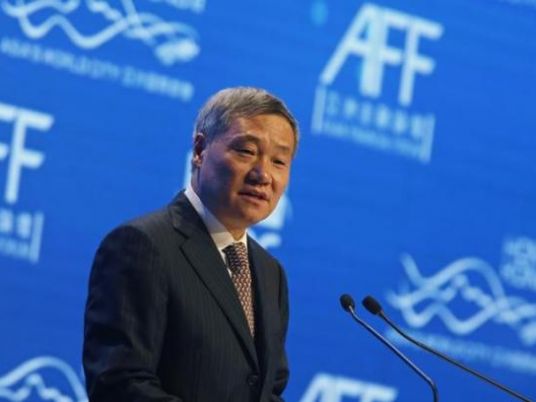 China has removed the head of its securities regulator following a turbulent period in the country's stock markets, appointing a top state banking executive as his replacement, as leaders move to restore confidence in the economy.
The announcement on the official Xinhua news agency on Saturday follows a string of assurances from senior leaders following the Lunar New Year holiday that China will underpin its slowing economy and steady its wobbly currency.
Xinhua said Xiao Gang, chairman of the China Securities Regulatory Commission (CSRC) since 2013, had been succeeded by Liu Shiyu, chairman of the Agricultural Bank of China Ltd (AgBank) (601288.SS) (1288.HK) and a former deputy governor of the central bank.
"Xiao's departure is not a surprise following the recent stock disaster. This is a role vulnerable to public criticism because most Chinese retail investors are destined to lose money in such a market," said Zhang Kaihua, a fund manager of Nanjing-based hedge fund Huyang Investment.
Reuters could not immediately reach the CSRC or Agricultural Bank of China for comment.
Xiao and the CSRC came under fire as China's Shanghai and Shenzhen stock markets slumped as much as 40 percent in just a few months last summer.
In a further blow, a stock index "circuit breaker" introduced in January to limit stock market losses was deactivated after four days of use because it was blamed for exacerbating a sharp selloff. Online media nicknamed Xiao "Mr Circuit Breaker".
Reuters reported in January that Xiao, 57, had offered to resign following the "circuit-breaker" failure. The CSRC said at the time the information did not conform to the facts.
The gyrations in China's stock markets, an unexpected devaluation of the yuan in August and sharp falls in currency reserves rattled global markets, raising concerns about the health of the economy and Beijing's ability to steer the country through both a protracted slowdown in growth and a shift away from manufacturing toward services.
Economic growth slipped last year to 6.9 percent, stellar by Western standards, but the weakest pace for China in more than two decades.
Ahead of two high-profile events for China — a meeting in Shanghai next week of G20 financial leaders and the annual gathering of China's legislature in March — officials have announced various measures to support the economy, including funds for infrastructure projects and increased financial support to struggling industry.
China's Commerce Minister Gao Hucheng said in an interview with state television on Friday that he was confident that the country's trade conditions would stabilize and improve in 2016.
Uncertainty ahead
Investors and analysts said the new chief Liu, 54, a trained economist, would bring in new policies and strategies, but it remained to be seen what direction he would take.
"Liu has a lot of experience in the financial sector, but there will be some policy uncertainty in the short term as it will take at least six months for the former banker to get used to his new role," fund manager Zhang said.
Andrew Sullivan, managing director, sales trading at Haitong International Securities Group in Hong Kong, said that removing Xiao had been largely expected.
"But by bringing in the AgBank chairman, they are really not bringing anybody with a fresh market perspective but a political insider," he said.
Liu spent most of his career at the People's Bank of China (PBOC), rising to deputy governor and holding that post from 2006 until he left in late 2014 to head up AgBank.
Xiao became the CSRC head in March 2013 and was charged with attracting investment into equities and away from speculative bubbles in sectors such as real estate, while defending against endemic insider trading.
The Communist Party had described Xiao as "young, energetic, resolute". He was also self-effacing, once saying the only thing he'd done right in life was to marry his wife.
Xiao was previously chairman of Bank of China Ltd (BoC) (601988.SS) (3988.HK), China's fourth-biggest lender, and had worked at China's central bank for over two decades.