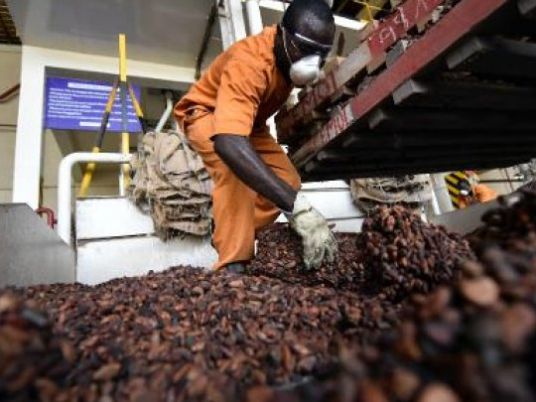 Ivory Coast reigns as the world's top cocoa producer but it wants to sell more than the beans, turning them into the even more lucrative chocolate, from breakfast spread to candy bars.
Home to more than 35 percent of the world's cocoa crop — with a record production of 1.7 million tonnes in 2014 — this west African country whose equatorial countryside is dotted with plantations, made cocoa its economic engine since independence from France in 1960.
The "brown gold" accounts for 22 percent of Ivory Coast's gross domestic product (GDP), half of its exports, and around two-thirds of people's jobs and income, according to the World Bank.
During the 2013-14 season, Ivorian cocoa producers saw profits of US$2.3 billion, according to Ivory Coast's coffee-cocoa council.
Worldwide cocoa reaped some $13 billion in profits.
But those figures were dwarfed by the world's chocolate earnings, which were nearly 10 times greater that season, according to the International Organisation for Coffee and Cocoa (ICCO).
'An aberration'
As one local analyst in the sector put it: "It's not normal that cocoa should leave Ivory Coast and then come back, it's an aberration".
And Ivory Coast wants to take a bite out of the rich chocolate market. In neighborhoods of the economic capital Abidjan, cocoa beans are being converted into a paste that can be used to make chocolate bars.
"We are interested in exporting finished and semi-finished products," said Ivorian Trade Minister Jean-Louis Billon.
After a decade of political and military crises, and bloody post-election violence in 2011, Ivory Coast has become more stable with an economic growth rate of nine percent between 2012 and 2014.
According to the ICCO, it is set to become the number one processor of cocoa beans.
Ivorian authorities say their goal is to process half their cocoa bean crop inside the country by 2020.
"We believe it is necessary to allow the country's (cocoa) producers to gain some added value. We are encouraging them to grind their own product," said Jean-Marc Anga, ICCO executive director.
Chocolate factories
Abidjan also hopes to become the ICCO's headquarters, which is currently based in London, in order to increase its influence in the sector.
Converting the cocoa beans locally means "giving more work to Ivorians, bringing more revenue to the state, and contributing to the development of our industry", said government spokesman Bruno Kone.
Earlier this month, President Alassane Ouattara personally inaugurated in the western city of San Pedro a new factory for converting cocoa beans owned by Olam, a company from Singapore.
Olam invested some $75 million in the construction of the factory with a capacity to handle 75,000 tons of cocoa beans each year.
And after grinding the cocoa beans, Ivory Coast is making further deals such as with French chocolate-maker Cemoi, which has invested $6.5 million in a factory to produce chocolate powder, bars and breakfast spread to sell in west Africa.
Cemoi will be the first Western company to operate a chocolate factory in Ivory Coast.
"There is in this region the strong emergence of a middle class which has the purchasing power to buy real chocolate," said Cemoi executive director Patrick Poirrier.