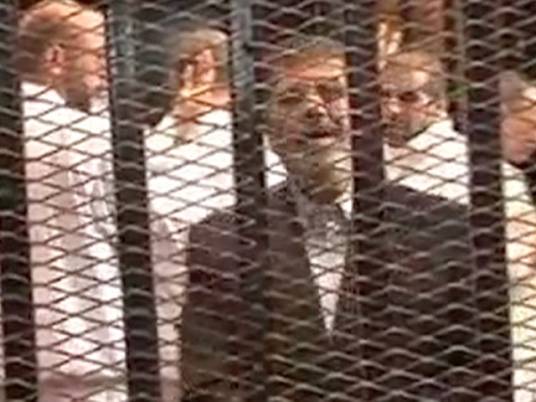 The Cairo Criminal Court, held at the Police Academy, will resume on Sunday, the trial of toppled President Mohamed Morsy, and 35 other leaders and members of the Muslim Brotherhood over charges of spying for foreign entities, the disclosure of national security secrets and coordination with jihadi organizations inside and outside Egypt in order to prepare for terrorist operations.
The court ordered in the previous session to bring three prosecution witnesses, including Major General Khalid Okasha and a civilian witness called Mohamed Ayoub.
The defense presented their demands in a memorandum, including allowing the defendants families to visit them. The court approved the request.
After the end of the session, the defendants waved Rabaa signs.
The other MB defendants include Supreme Guide Mohamed Badie, his deputies Khairat al-Shater, Mahmoud Ezzat and former Speaker of Parliament Saad al-Katatny, leaders Mohamed al-Beltagy, Essam al-Erian and Saad al-Husseiny, former Chief of Staff Mohamed Refaa al-Tahtawy, his deputy Assad al-Sheika, the director of Morsy's office Ahmed Abdel Aaty and 25 other members of the group.
The Prosecution levelled accusations of spying for foreign authorities targeting terrorist actions in Egypt, funding terrorism, organizing military training and committing actions that destabilize the country.
Investigators claimed that the international organization of the Muslim Brotherhood committed violence in Egypt to create chaos, prepared a terrorist scheme to form an alliance between the group in Egypt and other foreign extremist organizations and smuggled weapons and members to Gaza via tunnels with the help of Hamas to receive military training.
Prosecution also alleges the suspects gathered with other members of extremist groups in Sinai for training on how to spread propaganda to serve the goals of the international organization.
Critics accuse the Sisi-led government of fabricating these charges merely to crush the Muslim Brotherhood, the only large political opposition group capable of challenging the political elite.
Edited translation from Al-Masry Al-Youm