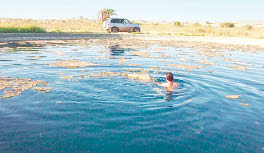 Due west from Cairo, the road leaves behind the urban gray for a world of endless beige, vast expanses of unforgiving desert, herds of wild camels and the occasional unlucky few who have long since given into thirst near the road. The sand keeps many secrets: ancient histories, war, lost armies and active landmines.
The only thing visibly changing, though, for 10 hours, is the road, which eventually dissolves to a point where it meets the horizon.
The green is unexpected; first a spattering of shrubbery, then palm trees. These trees, standing tall and glorious, exist defiantly in a landscape that threatens to bear no fruit. Then you see the water.
"Welcome to Siwa!" says a greeting sign. Only a few main roads are laid with asphalt but even that element of modernity is antiquated. Covered in wandering grains of sand, the wide asphalt roads lead to smaller dirt roads, which lead to small homes set among olive and palm tree groves.
Siwa is an idyllic picture of the past. A world away from the busy and smog-filled hub that is Cairo, Siwa is tranquil and homey, an impossibly quiet and uncorrupted place. Cars on the road are rare — donkey-led carts, motorcycles and three-wheeled trucks are the transportation norms.
Siwan women, raised in a very conservative environment even by Egyptian standards, throw blankets over their niqabs whenever they move from place to place. When in Siwa, one should respect the culture: dress conservatively and indulge in all things olive and date.
What to eat
A stop at Abdu's Restaurant, a well-known and friendly restaurant in the town center, is a great introduction to Siwan twists on classic Egyptian food. The waiters are dressed in long galabeyas, some with traditional Bedouin kohl lining their eyes, and offer speedy service with a good sense of humor. If they haven't seen you before, the pre-meal olives and post-meal Siwan tea are on them.
Their date pancakes are famous, filled and topped with generous servings of date jam. They also serve a wide range of food including shakshouka, tagines and couscous dishes.
The molokheya in Siwa is even more finely chopped than it is in Cairo, almost into a powder. The lentil soup is divine, and make sure to ask for a small serving of their locally made olive oil to put on top — the olive oil is good enough to sip on its own.
If you stop at the grocery store next door, you can buy your own date jam, olives and dates for less than the price of two cups of tea in most Cairo restaurants.
Another prime eating spot, Albabenshal, is not far from Abdu's and serves excellent food. They have camel on the menu, but if you happen to go after Eid al-Adha, they might not have any meat left.
What to do
Everything in Siwa is within biking distance. If you enjoy biking, rent bikes by the day or by the half day from a hotel or from any bike rental place in the town center.
With the hand-drawn official tourist map of Siwa, create your own bike tour and make a stop at the edge of Shali. Shali is the ancient fortress in Siwa that once housed the population and protected the city from invaders.
It is built from kharsheef, a building material composed of sun-baked clay, salt and sand, and dug up from the edges of the salt lakes on Siwa's periphery. A three-day rainstorm in 1930 practically destroyed Shali and the residents were forced to populate the area surrounding the ancient fortress.
Today, Shali resembles a sandcastle that has weathered centuries of turmoil. Anyone is free to climb up the stairs and explore — no corner of the ancient sand structure is out of bounds, although some may find its continuous state of disintegration disconcerting.
If you climb to the top, take a look out at Siwa at sunset. The evening prayer begins to echo from the many minarets in the vicinity, slightly out of sync. Soon, the landscape is filled with prayer, beautiful sunset and the occasional sha'abi ringtone from the boys hanging out behind Shali's walls.
Gebel al-Mowta, or the Mountain of the Dead, is just north of Shali. If you walk to the top, you will look out over thousands of tombs from different historical periods. The guards can be coerced to let you inside one of the more ornate tombs from the Ptolemaic dynasty.
Take the time to bike along Iskandar Road to the Temple of the Oracle, where Alexander the Great is said to have asked if he was, indeed, the son of Zeus. If the adventurer in you makes an appearance, try finding alternate routes (there may or may not be some unstable underground passageways) to the center of the temple.
Poorly preserved remnants of hieroglyphics can be spotted if you look carefully. Before you leave, find a seat atop the temple walls and look out over one of Siwa's salt lakes.
The natural springs in Siwa are irresistible in the dry heat. Just east of the town center and shrouded in history is Cleopatra's Bath. The algae on the surface should not be a deterrent from jumping in.
Because Cleopatra's Bath is relatively centrally located, women should wear a T-shirt and shorts over their swimsuits out of cultural sensitivity. At more remotely located springs, you can swim in one-piece bathing suits. There is a quaint little open-air cafe around the bath with a pool table, fresh seasonal juice and freshly charcoal-grilled chicken.
The town's ancient fortresses, hieroglyphics and central springs are not its only attractions. The road leading west to Fatnas Island is just as exciting as the destination. Stop to roam around some unmarked ancient Egyptian ruins or to pick some dates off a low-lying tree for a quick snack. Charms for "curses" sometimes hang hidden in the trees, as many Siwans are superstitious.
Just before you reach Fatnas Island, you'll find yourself biking across a great salt lake, perfectly mirroring the desert rock plateaus and the sky. Once there, cool off in yet another natural spring, and head to the shore to enjoy shisha, tea and the view.
Make it in time for sunset, but be careful to allow yourself enough sunlight to bike back. If you find yourself stuck there with bikes after nightfall, kindly ask anyone there to call you a small car.
Around Siwa
With access to a car and an extra day, the wonders on Siwa's outskirts are worth visiting.
Take the desert road far out east to Abu Shorouf, a quieter natural spring with a small hut-cafe where men and women can dive in and relax.
There are many sites on the way but the most noteworthy is Qershet Spring. Located near an ancient Roman architectural site and village, Qershet Spring is a picture-perfect spring in the middle of the desert.
With not a soul in site, it is arguably one of the most ideal places to bask in the wonder of history and swim in the life source of the desert.
Small villages dot the area surrounding these desert springs on the outskirts of Siwa. If you're there during the Eid al-Adha holiday, it is impossible to miss the children's Eid clothing: uniquely elaborate sequined dresses and black vests.
If you want to really get intimate with the desert and have time, you can hire a Bedouin desert guide and embark on a one- or two-day Sahara escapade.
Whether you've spent the daylight hours in spring-fed pools, exploring the oasis on a bike or lying motionless after consuming prodigious amounts of olives and dates, end each day with a breathtaking Siwan sunset. As the sun sets, the horizon is rainbow-colored.
It is said that pollution makes for the prettiest sunsets, but the lack of pollution — noise, light and chemical — is like nothing I have ever experienced. Forget your worries and stare in wonder at the undisturbed beauty of this water-blessed desert.
This piece was originally published in Egypt Independent's weekly print edition.