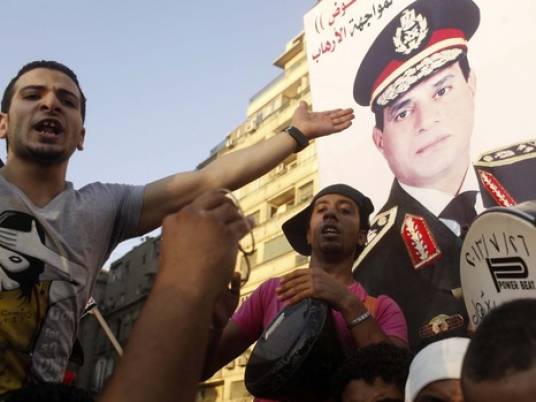 President Abdel Fattah al-Sisi stressed strong relations between Egypt and Arab countries, pointing out that Egypt has not shown disrespect to Qatar at the official level at all.
Regarding an amelioration in relations with Qatar, Sisi said, "We wait to see a step on their part."
"I will not only talk about the recovery of the Egyptian economy, but also about the US role in supporting the economy…for the security and stability of Egypt and the region," Sisi added in his interview with Bloomberg News Channel during the Davos economic conference in Switzerland, published Tuesday.
The increase of European and US investment has led to the improvement of the situation of poor people in Egypt, he said.
About the presence of Egypt as a secular state in the 20th Century amid the Muslim world dynamics, Sisi said: "We must recognize that there are few who have false beliefs and very difficult ideas that makes Islam appear as unforgiving and merciless."
"The relationship between Egyptians of all religious affiliations reaches a high level of elevation, progress, love, respect, understanding and harmony," he added.
Sisi wanted to assure the world that there is a large space between Egyptians for sharing religious events, Sisi said about his visit to the Coptic Orthodox Cathedral on New Year eve.
"I wanted to send the impression to Egyptian people and the whole world that we have nothing to disagree about and everyone worships God the way they want," he said.
"I wasn't the president of the country when the case was initiated," Sisi commented on the detention of the three Al Jazeera journalists in the case known in media as the "Marriott Cell."
"If I had been there, I would have ordered the deportation of journalists without any problem," Sisi added.
Edited translation from Al-Masry Al-Youm