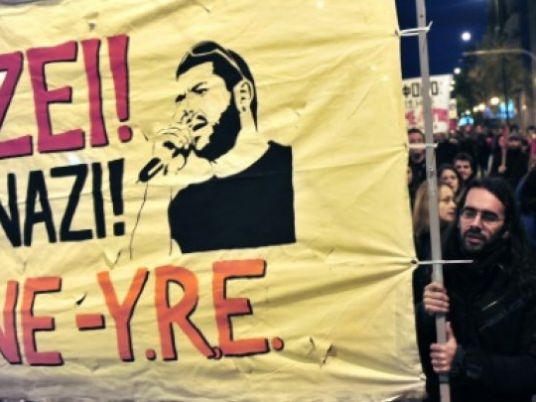 The fatal stabbing of a Greek anti-fascist rapper by a neo-Nazi supporter in 2013 that shocked the country was a "professional" attack, his father told court on Tuesday.
Panagiotis Fyssas said his son Pavlos had been ambushed by around 60 members of the Golden Dawn party outside a cafeteria.
A handful of police stood nearby but did not intervene, he said.
"He took two blows to the heart … the doctor at the hospital said it was a professional blow to cause internal bleeding," Fyssas said according to a transcript reported by Kathimerini daily.
He added that self-confessed killer Yiorgos Roupakias, a truck driver, had been "ordered" to kill his son because of his anti-fascist stance.
"This organization shuts the mouths of those that oppose them," Fyssas said.
"They do nothing without orders," he added.
The trial of 69 members and supporters of the xenophobic and anti-Semitic formation began in April but has made little headway due to procedural wrangling.
State prosecutors are trying to prove that Golden Dawn operated as a criminal organization with a military-style leadership that allegedly encouraged the beating — and possibly the killing — of migrants and political opponents.
Party leader Nikos Michaloliakos last month admitted political responsibility for the killing but rejected any criminal blame.
Fyssas' mother Magda had warned voters against supporting Golden Dawn in the September 20 general election.
The neo-Nazis did lose some 9,000 votes nationwide compared to the last election in January, but still finished third with 18 lawmakers.
The party picked up extra votes on eastern Aegean islands Lesbos and Kos, where massive refugee arrivals have riled locals.