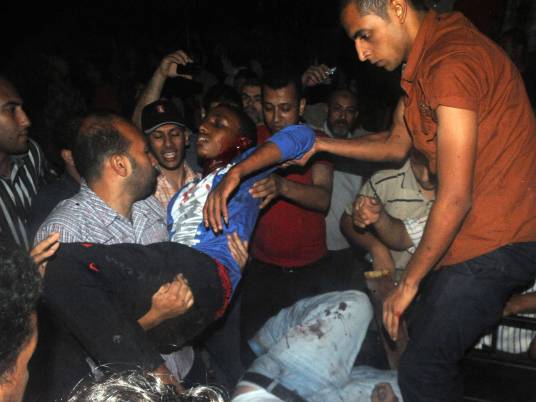 The death toll from clashes that erupted after the dismissal of Egyptian President Mohamed Morsy rose to 16 people on Thursday, said security and medical sources.
Fourteen people were killed in clashes in Egyptian cities on Wednesday evening and early Thursday.
The sources said that a police officer died on Thursday in Minya, south of Cairo, after sustaining injuries during clashes between Morsy's supporters and security forces in front of the Minya Security Directorate building.
The building had come under attack from Islamists firing live ammunition and birdshot, police said.
Three Morsy supporters were killed in clashes in the city of Minya, and 13 others were injured in addition to injured police officers, according to medical sources.
In Alexandria, the death toll rose to four, while 150 others were injured.
The city's ambulance service director had earlier announced that three people were killed and 120 injured.
Head of Alexandria Security Directorate, Major General Amin Ezz Eddin, said 13 armed men were arrested for involvement in the violent exchanges.
In Kafr al-Sheikh, in the Nile Delta, clashes saw the use of live ammunition, birdshot, knives, sticks and stones.
Around 190 people were injured, most of them Muslim Brotherhood members, said Lotfy Abdel Samea, Director General of Kafr El Sheikh General Hospital.
Among the injured, six are reported to be in serious condition.
Witnesses said that homes, shops and medical clinics belonging to members of the Brotherhood have been attacked by angry crowds.
Forty-five people were meanwhile injured in Gharbiya clashes in the Nile Delta, according to Mohamed Sharshar, deputy of the Health Ministry.