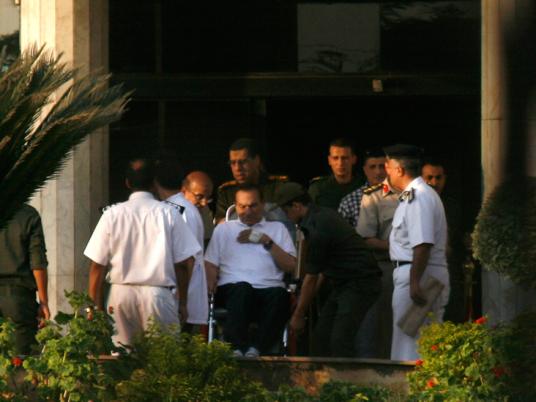 Cairo Criminal Court on Tuesday postponed the retrial of toppled President Hosni Mubarak and others to 5 May over charges related to the killing of protesters during the 2011 revolution and financial corruption in the export of Egyptian natural gas to Israel.
Other figures in the Mubarak trial include his sons Alaa and Gamal, former Interior Minister Habib al-Adly, six former security officials and fugitive businessman Hussein Salem.
In the next court session, the court will continue hearing Adly's defense lawyer.
The defense of the seventh defendant, Major General Adly Fayed Mostafa Abdel Rahman, former Assistant Minister of Interior for the Public Security Sector, said officers dealt with demonstrators during the 25 January revolution using "gentle persuasion," in accordance with the instructions of security leaders at the time.
"The officers and soldiers used the right of legitimate defense of themselves and police stations," the defense added, Tuesday.
"They did not use anything except rubber bullets during attacks on police stations," he said.
The defense asserted that all CSF officers confirmed they were not ordered to fire on demonstrators, pointing out that the officers used their legal right to defend themselves, which did not require a license or approval from the president or an official.
The Public Prosecution has not yet identified the real actor in the case and the investigations are incomplete, which
backs our situation and proves that all the defendants are innocent of murder charges during the 25 January events, the defense argued.
During the last session on Sunday, Major General Ahmed Ramzy, former Central Security Forces commander, delivered his defense,
with his lawyers contending that orders had been given to disperse January 2011 protests with clubs, shields and tear gas only, suggesting that no orders were given for the use of firearms.
Edited translation from Al-Masry Al-Youm