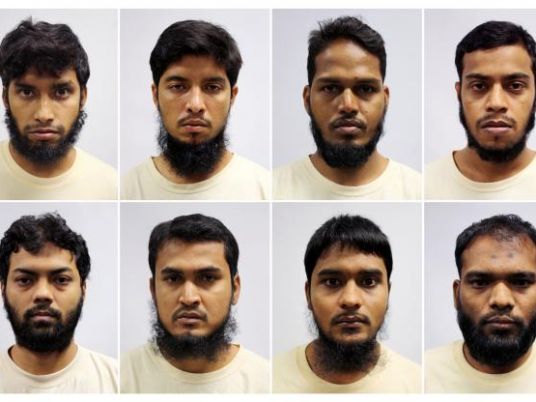 Police in Bangladesh have arrested five men deported from Singapore as part of an investigation into an alleged Islamist plot to carry out attacks in the South Asian country, authorities in Dhaka said.
Singapore's Ministry of Home Affairs (MHA) said on Tuesday it had detained eight other Bangladeshi men who were planning attacks in their homeland, using the name Islamic State in Bangladesh (ISB).
The five men returned to Bangladesh were not involved with that group, the MHA said, but were found during the same investigation to be in possession of jihadi-related material or to support the use of armed violence for a religious cause.
Dhaka city police spokesman Maruf Hossain Sardar said the five, who traveled to Singapore between 2007 and 2011, were being investigated for possible connections with local militant group Ansarullah Bangla Team (ABT).
Islamist militants in Bangladesh have targeted atheist bloggers, academics, religious minorities and foreign aid workers in a series of killings that dates back to February 2015 and has claimed at least 20 lives.
The Islamic State and a group affiliated to al Qaeda have claimed responsibility for most of the attacks but Bangladesh authorities have dismissed the claims as 'baseless' and said homegrown militant groups were responsible.
Bangladesh authorities have said the ABT was behind the attacks on online critics of religious extremism and the killing last month of a gay rights campaigner and his friend.
The MHA said on Tuesday the eight men still held in Singapore were detained under the colonial-era Internal Security Act.
Wealthy, multi-ethnic Singapore, which has not faced any successful militant attacks in decades, said investigations showed the group had identified several possible targets in Bangladesh.
They were the second group of Bangladeshis investigated in the past six months in Singapore, which is host to around 150,000 workers from Bangladesh who are prominent in industries such as construction and marine.
In January, Singapore said it arrested 27 Bangladeshi construction workers who supported Islamist groups including al Qaeda and Islamic State and deported 26 of them.
Bangladesh said the same month it would charge 14 of those deported with membership of ABT.
Workers rights groups say Bangladeshis are among the most economically vulnerable migrant groups in Singapore, due to deeper poverty at home compared with other major groups.