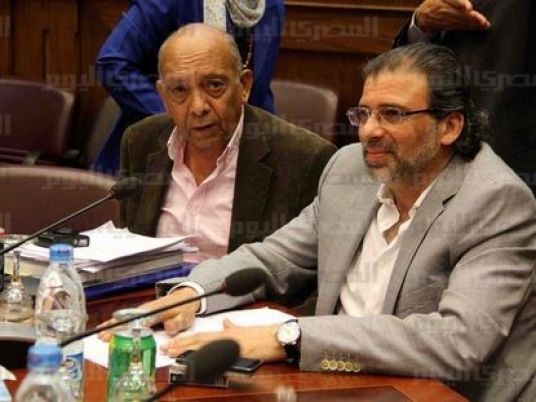 Director Khaled Youssef announced on Monday evening that he won a House of Representatives seat as an individual candidate for his hometown, Kafr Shokr, in Qalyubiya, garnering nearly 30,000 votes.
Youssef is among a select few candidates who will not have to participate in the runoff elections due to the large number of votes he received.
A controversial director who is known for his bold movies, 51-year-old Youssef has nonetheless been involved in politics, on and off, since the 1980s. As a student of engineering at Zagazig University, from which he graduated in 1990, Youssef was one of the leaders of the student movement during that time.
His political activism put him in contact with several intellectuals, including renowned director Youssef Shahin, who advised him to go into cinema. As a result, in 1992, Youssef co-directed his first movie with Shahin. Then, in 2000, he wrote and directed his first solo movie, "al-Asefa" (The Storm). He went on to obtain many awards from the Cairo International Film Festival and the Egyptian National Film Festival, and in 2013 the Dubai International Film Festival announced that his films "Heya Fawda" and "Hina Maysara" were considered among the 100 best Arab films of all time.
Though Youssef made several movies, such as "Gwaz Biqarar Gomhury", "Enta Omry", "Wija", "Khiyana Mashroua", "al-Rayis Omar Harb", "Dokan Shehata", "Kalemny Shokran" and "Kaff al-Qamar", his interest in politics remained.
Youssef supported the January 25 revolution which toppled President Hosni Mubarak in 2011 and later opposed the Muslim Brotherhood and former President Mohamed Morsi's rule.
As part of his resistance towards Morsi's presidency, Youssef staged a sit-in, along with other intellectuals and artists, at the headquarters of the Culture Ministry to prevent the entry of a culture minister appointed by Morsi. The sit-in succeeded in preventing the minister from entering the ministry for over a month.
Youssef later supported the June 30 protests and the Tamarod campaign that toppled Morsi. He reportedly filmed the June 30 protests from a military aircraft. A few years later, Youssef was active in supporting the trial of Morsi and Muslim Brotherhood leaders, but opposed the withdrawal of their Egyptian nationality.
In 2012, Youssef supported leftist politician Hamdeen Sabbahi for president in the presidential elections. In the same year, he headed the Film Commission of the Supreme Council of Culture and was a member of the 50-member constituent assembly that drafted the 2013 Constitution. He opposed the amendment of the Constitution, however.
"(This move) would be an opportunity for the Muslim Brotherhood criminals and terrorist organizations to undermine the legitimacy of the regime, which we elected with our free will, and would be a favorable opportunity for spreading doubt and confusion," Youssef wrote on his Facebook account.
In 2014, however, Youssef backed President Abdel Fattah al-Sisi, instead of his good friend Sabbahi, during that year's presidential elections and was later appointed Sisi's adviser.
This year, Youssef was vocal in his condemnation of the government for the killing of Socialist People's Alliance Party activist Shaimaa al-Sabbagh during a peaceful protest in January. He did, however, back the Egyptian military strike in Libya against the Islamic State, in February, following the killing of 21 Coptic Christians.
Youssef also voiced his criticism of the discrimination aimed towards law students whose parents do not hold university degrees, which had been a decision made by the Supreme Council of the Judiciary.
Youssef also backed the Syrian revolution against Syrian President Bashar al-Assad, but later changed his mind following the start of the Syrian civil war and the military interference of foreign countries in Syria.