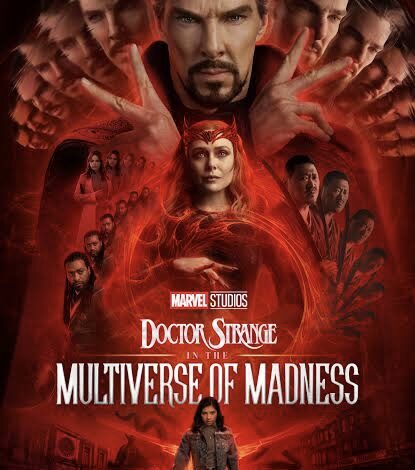 As Marvel Studio's "Doctor Strange in the Multiverse of Madness" started screening in a number of countries around the world, the most important of which are France and the US, the movie has been banned in Egypt due to promoting homosexuality, according to censorship authorities.
The film topped the trend on social media over the past few hours, after it started showing in a number of countries.
In a report, Al-Masry Al-Youm provided details and information about Dr. Strange's personality, biography and personal life, the new movie and why the film was banned from showing in some Arab countries including Egypt.
Name: Stephen Vincent Strange
Profession: A doctor and magician
Nationality: US
Biography:
Doctor Strange is a fictional character who first appeared in the "Doctor Strange" movie in 2016. He then appeared in "Avengers: Infinity War" (2018) and "Avengers: Endgame" (2019).
Born in 1930, Stephen Strange was the eldest son of Eugene and Beverly Strange.
At the age of eight, Strange was besieged by demons controlled by wizard Karl Mordo, but was saved by Mordo's master, the Ancient One, a thousand-year-old mystic protector of the Earth-realm as the then-current Sorcerer Supreme, the role that Strange was expected to inherit.
At the age of eleven, a year or two after his brother Victor was born, Strange helped his injured sister Donna, an experience that inspired him to pursue a career in medicine.
Doctor Strange studied medicine and then he studied magic. He obtained supernatural powers, the most important of which is to travel through time. He lives in the Sanctum Sanctorum palace. He was a neurosurgeon before he mastered the arts of magic. His staunch enemies are Baron Mordo and Dormammu.
He's become a brilliant surgeon, and after a car accident his hands get hurt and he becomes unable to perform surgeries, so he searches the world for a way to fix it. After becoming one of the first students of magic, he becomes a practitioner of both magic and martial arts, as well as knowing many powerful spells, while the Cloak of Levitation helps him gain additional powers. He resides in New York City and later earns the title of Sorcerer Supreme.
Strange appeared in the Fantastic Four superhero film series and remained aloof from many of the great New York heroes at first, and later Loki tricked him and convinced him to attack Thor, but Strange discovered the trick and teamed up with Thor against Loki.
Soon after, a clash with Mordo leads to Strange's confrontation with the young Spider-Man, who helps Doctor Strange rescue several people after Sophie.
After his memory is erased, Strange sees Spider-Man as a friend, and they collaborate many times over the years.
In "Doctor Strange in the Multiverse of Madness", after the "Spider-Man: No Way Home" (2021), Doctor Strange's spell opens the gates of parallel worlds, and he meets many familiar allies and enemies from other worlds.
The movie has been banned in several Arab countries including Kuwait, Qatar, Saudi Arabia and Egypt, for promoting homosexuality through the presence of an LGBTQ+ character.