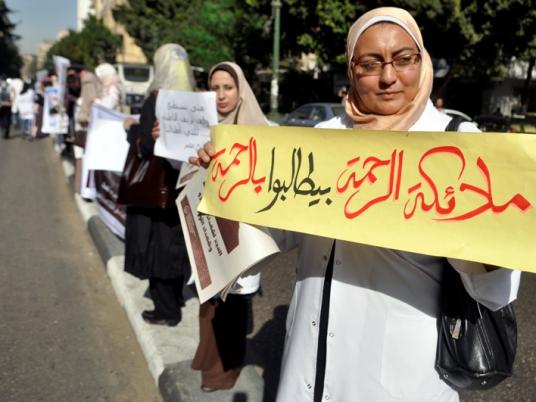 The doctors' strike entered its 37th day Tuesday, demanding better salaries, the improvement of the health system and improved hospital security.
Protesting doctors said they would organize a march on Thursday from Omar Makram Mosque, near Tahrir Square, to the state television building in Maspero, in a symbolic funeral for the Health Ministry, in which political parties and public figures would participate.
Sources within the Health Ministry, who spoke to Al-Masry Al-Youm on condition of anonymity, estimated that the strike has cost the ministry some LE100 million in losses, as doctors are not charging patients for treatment.
The doctors threatened to take more steps in coming days if their demands are not met.
Dr. Ahmed Hussein, a member of the strike's supreme committee, said patients' fees go to the ministry's special fund. "They pay allowances and incentives for ministers and undersecretaries from it," he said. "Some take up to LE15,000 per month, while a doctor gets as little as LE40."
Dr. Taher Mokhtar, coordinator of the strike in Alexandria, said 80 percent of the doctors there took part in the strike.
The doctors' strike started on 1 October after being approved on 21 September at a Doctors Syndicate emergency general assembly meeting.
Doctors in public hospitals began a mass resignation campaign on 18 October intended to escalate the ongoing strike to force the government to meet their demands.
Edited translation from Al-Masry Al-Youm