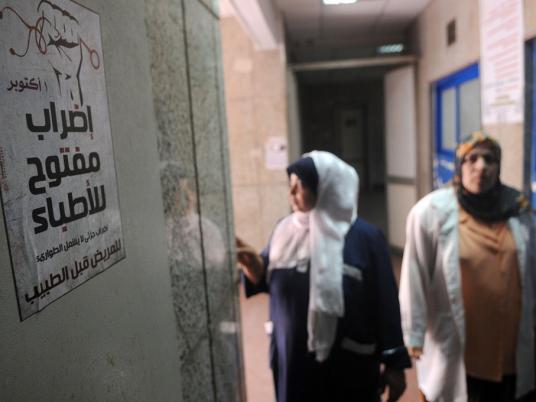 Dozens of doctors and members of the Doctors' Syndicate board staged a silent protest yesterday outside Dar al-Hekma against the privatization of medical education and free health services.
They called for the expansion of Egyptian Fellowship Programs so that an additional 4,000 students could benefit annually, as well as a solution to the problem facing students who want to do postgraduate studies but are unable to find space in the programs.
The protesters demanded the establishment of a committee that will provide a bridge between the Health Ministry, the fellowship program, medical faculties and the Supreme Council of Universities. It will work on solving the issues surrounding postgraduate studies. The demonstrators raised slogans criticizing the Health Ministry's performance and the move toward privatization.
The syndicate denounced the absence of any practical solutions by the ministry to deal with the exorbitant fees imposed on postgraduate students, despite the fact that the syndicate has put forward many solutions.
There are cooperative programs between the Health Ministry, private universities and the Supreme Council of Universities to provide access to higher education for those who pay a fee ranging between LE15,000 and LE20,000 a year, which is a suspicious trend toward privatizing education, said secretary general of the syndicate Mona Mina.
Edited translation from Al-Masry Al-Youm