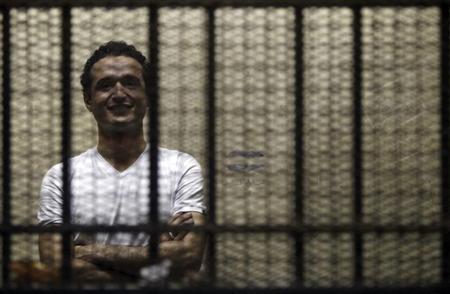 The Cairo Criminal Court on Wednesday decided to postpone the "Cabinet Incident" trial of political activist Ahmed Doma and 268 others, including 16 detained and nine fugitives, to 20 August to continue viewing the videos.
One video clip showed a woman saying that internationally banned bombs and nerve gases were used in the violent incident outside the Cabinet building.
The same woman appeared in another video with a certain Dr. Ahmed al-Kassar who said it was the military police and the army special forces that threw those bombs, blaming former Chief of Staff Sami Anan for it.
The judge allowed Doma to step outside the glass dock to see the videos clearly and asked him if he knows the woman. "No I don't," he said, adding that those video clips were taken from a Brotherhood website.
"The videos have been edited," he added, which is contrary to the report of the tripartite committee.
The court then played a video of Doma with media host Wael al-Ibrashi in which he confessed to throwing Molotov cocktails at people who were wearing military uniforms and shooting at him.
"This is only a part of the interview and not all of it," Doma commented on the video. "And it was about the Mohamed Mahmoud Street events and not the Cabinet building incident."
The defense asked to discard the videos because they are labled for Mohamed Mahmoud Street and thus are irrelevant to the case.
When a lawyer tried to speak with Doma while he was outside the dock, the court forbade him. He then asked to include in the minutes that he was banned form talking to his client.
Meanwhile, the lawyer of the defendant Magdy Mahmoud Mohamed withdrew from the case because the court denied his client entry, which renders his trial void and unconstitutional.
In the last session, Doma objected to the glass dock. "We are not animals in a zoo for you place us in cages," he had said. He also insisted that the defense take the testimonies of the eyewitnesses that did not attend the session.
The defendants are charged with illegal assembly, possession of knives and Molotov cocktails, assaulting members of the armed forces and the police, burning down the Institut d'Egypte and attempting to burn down the People's Assembly, the Shura Council and the Interior Ministry.
Edited translation from Al-Masry Al-Youm