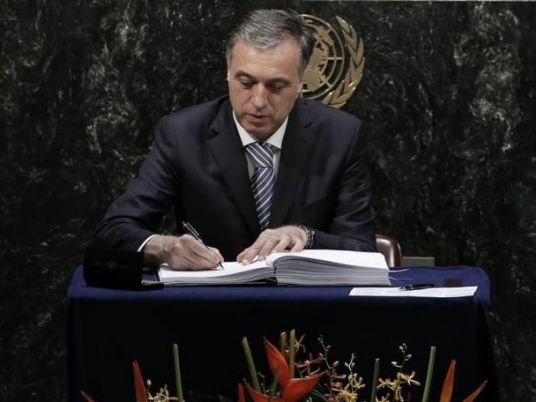 A hard-fought climate rescue pact concluded last December in the French capital will enter into legal force next month, earlier than expected, after record-fast country ratifications hailed by observers Wednesday.
The Paris Agreement to curb planet-warming greenhouse gases from burning coal, oil and gas, had required ratification from 55 countries responsible for 55 percent of emissions.
It was pushed over this threshold, the UN said, when the European Union, which signed as an individual party, and seven of its member states added their official sanction to the deal on Wednesday.
Only through ratification — which in some cases entails passing national legislation — does a country agree to be bound to an international agreement such as this one.
The EU, responsible for an estimated 10 percent of global emissions, joined the ranks of China and the United States, who emit almost 40 percent combined.
"On October 5, 2016, the threshold for entry into force of the Paris Agreement has been achieved," the secretariat of the UN Framework Convention on Climate Change (UNFCCC), which oversaw the pact negotiations, announced.
Seventy-two countries accounting for more than 56 percent of emissions had submitted ratification documents, it said, meaning the pact will take binding, legal effect in 30 days.
This will be just in time for the annual UN climate conference opening in Marrakech on November 7 to discuss ways to put into action plans outlined in the agreement.
Agreed by 195 nations outside the Parisian capital on December 12, the world's first universal climate treaty vows to cap global warming at well under two degrees Celsius (3.6 degrees Fahrenheit).
This must be achieved by replacing atmosphere-polluting fossil fuels with renewable sources of energy — an ambitious goal towards which most UN nations have pledged emissions curbs.
Race against time
On current country pledges, however, scientists expect the world to warm by 3 C or more, meaning much more drastic measures are needed to effect a large-scale shift towards wind, solar and other sustainable energies.
"This ratification happened at record speed," environment minister Segolene Royal of France, the outgoing president of the UNFCCC talks, told AFP.
By comparison, it took eight years for the Kyoto Protocol, which preceded the Paris Agreement, to enter into force. Neither the US or China were signed up to that one.
"This is a welcome development after years of frustratingly slow progress," said Andrew Steer, president of the World Resources Institute, a Washington-based think-tank.
"With the agreement in full force, countries can shift their focus from commitment to action."
For Jennifer Morgan, executive director of Greenpeace International, the momentum presented a "tremendous opportunity" for clean energy.
"Now that a truly global binding climate agreement is in place, governments should have the confidence to not only meet but also beat their national climate targets and provide support to the poorest countries."
According to Thoriq Ibrahim, chairman of the Alliance of Small Island States threatened by climate change-boosted sea levels, the world cannot afford to rest on its laurels.
"We urge all countries to ratify as soon as possible so we can make the Paris Agreement truly universal," he said.
"It is no exaggeration to say we are in a race against time."