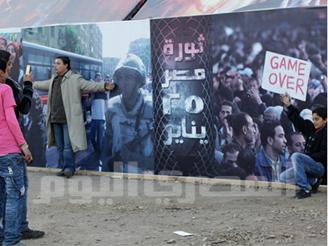 Dostor Party leader Gamila Ismail announced her support for the campaign of "Together We Can" by party chairman candidate Mohamed al-Gamal.
Ismail said in a statement Wednesday she would face fierce attempts to expel youth from the political arena.
Ismail said she backs the idea of continuing building the party which almost collapsed last year after the party's organizational entity shrank due to administrative and regulatory failure in addition to attempts to expel the youth.
"We are facing attempts by the 'agents of the authority within (political) parties' to push the party toward (backing the authorities)," she said.
On the other hand, a statement by party members dubbed "Dostor WikiLeaks" called for referring Ismail to interrogation over her statement about the existence of 'authority agents' in the party.
Amira Sheisha, spokeswoman for candidate Tamer Gomaa's campaign refused to comment on Ismail's statement.
Ismail was a leader in the party and is considered responsible for its failure, said Adel Younis, spokesman for candidate Ahmed Metwally.
Edited translation from Al-Masry Al-Youm