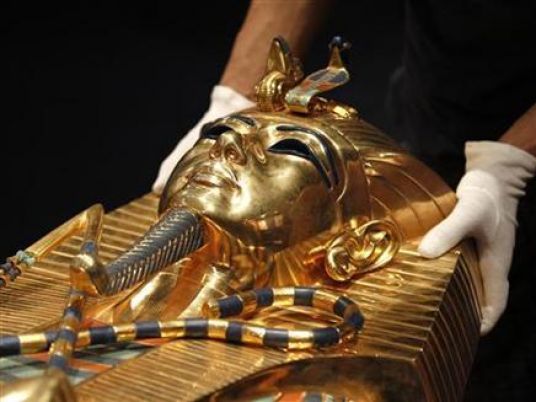 The National Museum of Antiquities in the Netherlands organized an exhibition of Egyptian antiquities purportedly in support of the Afrocentric theory which states dark-skinned Africans were the actual rulers of ancient Egypt, according to antiquities expert Abd al-Rahim Rihan, who heads a campaign to defend the Egyptian civilization.
The exhibition presented showed a restoration of Tutankhamun's mask portraying King Tut with black features.
According to Rihan, the National Museum of Antiquities in the Netherlands committed two grave mistakes: the first was insulting Egyptian civilization by portraying Tutankhamun as black, and the second was cloning an Egyptian antiquity.
Article 39 of the Protection of Antiquities Law No. 117 of 1983 and its amendments, stipulates that only the Supreme Council of Antiquities in Egypt may produce modern models of antiquities, provided that it is stamped by it.
The council may license others or cooperate with any party it determines to produce these models according to specifications and conditions that the council determines, Rihan said.
It is prohibited to circulate any models produced in violation of these specifications, he added.
A member of the House of Representatives Ahmed Bilal al-Burlusy submitted a request for a briefing addressed to Prime Minister Mostafa Madbouly, and Minister of Tourism and Antiquities Ahmed Issa, regarding the measures that were taken to confront the distortion of Egyptian civilization in the Amsterdam museum.
This follows the controversial Netflix "Queen Cleopatra" documentary which also supports the Afrocentric theory by casting an African to portray the titular Queen.
Former Egyptian Antiquities Minister Zahi Hawass described depicting Queen Cleopatra as a black woman as "falsifying facts", adding that "This is completely fake. Cleopatra was Greek, meaning that she was blonde, not black."
Queen Cleopatra, the last ruler of the Ptolemaic dynasty, was born in 69 BC and died in 30 BC in Alexandria.
The documentary received massive backlash and prompted Egypt to respond with its own film.