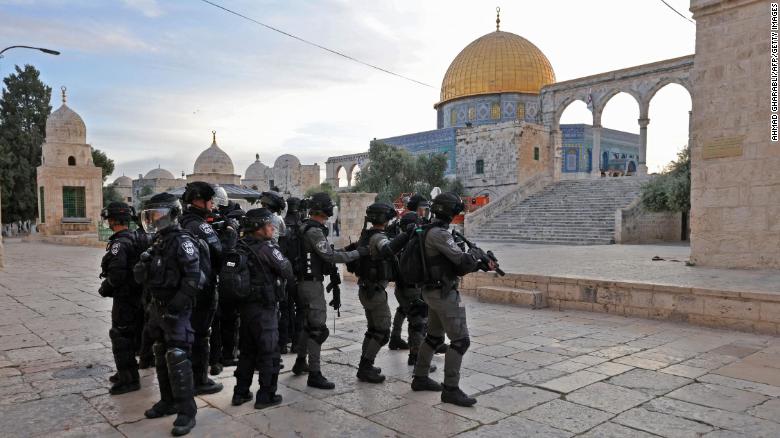 Egypt condemned the incursion of several Israeli officials, parliamentarians, and settlers into the courtyards of Al-Aqsa Mosque in East Jerusalem during the so-called Flag March earlier Thursday 18/5/2023, the Egyptian Ministry of Foreign Affairs said.
"Such irresponsible escalation fuels emotions, increases tension, and aggravates the existing frustration in the occupied territories," the Ministry said in a statement on Thursday evening.
The statement further condemned "the provocative acts and practices that aim to restrict the access of worshipers and incite negative sentiments among the Palestinian people".
On Thursday, thousands of Jewish nationalists, some of them chanting "Death to Arabs" and other racist slogans, paraded through the main Palestinian thoroughfare of Jerusalem's occupied Old City, in an annual display that caused new friction between Jews and Palestinians in the tense city.
Egypt reiterated its longstanding position that insists on "upholding the legal and historical status quo in Jerusalem and emphasizing that Al-Aqsa Mosque is a purely Islamic sanctuary".
In its statement, Egypt unequivocally reaffirmed that East Jerusalem is an integral part of those Palestinian territories that have been illegally occupied by Israel since June 1967.
It emphasized that this occupation violates international law and the resolutions of the international community, which do not recognize the Israeli annexation of these territories.
Egypt has been calling for a two-state solution whereby a Palestinian state is established on the borders of the 4 June 1967 with East Jerusalem as its capital.
Thousands of Israel's ultra-nationalists and fanatic settlers, led by a couple of Israeli ministers, marched through East Jerusalem, storming the courtyard of the Al-Aqsa Mosque to celebrate the city's capture in the 1967 war.