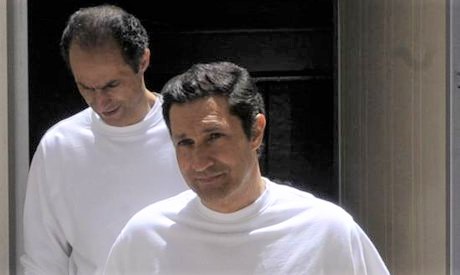 Egypt's South Cairo Court ordered the release of former President Hosni Mubarak's two sons, Gamal and Alaa, on Thursday, AP reported after an earlier trial ordered the arrest of both men.
The ruling stated that the brothers, accused of insider trading, are to be released for a LE100,000 bail each. The pair's lawyers had filed a motion arguing that an arrest was "unreasonable", given that both defendants had abided by hearing times, and resided somewhere known to court.
The previous ruling of 15 September saw judge Ahmed Abou El-Fotouh order the detention of the two Mubaraks until trial proceedings in 20 October. The judge rejected the defense's presentation of a technical report that claimed to prove the innocence of the pair.
These proceedings link to an ongoing trial, which accuses the brothers of buying a massive amount of shares in a bank they knew would be taken over by Gulf investors.
Although it is the last accusation that the brothers face, it is not the first. Following Egypt's January 2011 uprising, the Mubarak sons, along with their father, were sentenced for three years each on charges of embezzling funds.
However, by 2015, Gamal and Alaa had served their time, and were released. In 2016, former president Hosni Mubarak was also released after being deemed innocent in a trial for killing protesters.
Had the 2011 uprising not taken place, Gamal Mubarak was expected to succeed his father as president. Since the revolution, the Mubaraks have a faced a string of charges, largely related to corruption or abuse of power. Since 2011, the family has paid back some of their embezzled funds.