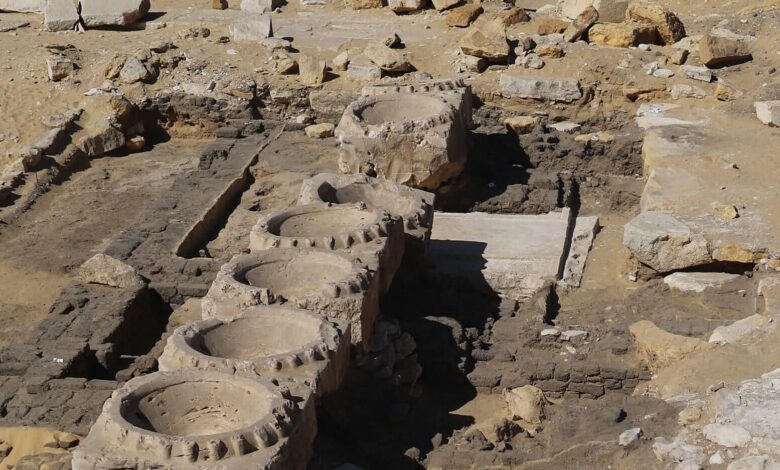 The joint Italian-Polish archaeological mission, working at the temple of King Niuserre in Abu Ghorab, north of Abu Sir, discovered the remains of a mud-brick building below the temple.
Preliminary studies suggests it is probably the remains of one of the lost four solar temples from Fifth Dynasty, known only in historical sources but yet to be discovered.
The Secretary-General of the Supreme Council of Antiquities Mostafa Waziri, said that the excavations at the site will be completed to reveal more about this building.
Waziri added that the remains of the discovered building are accessed through an entrance built of limestone, which leads to the area between the storehouses in the north and the wide courtyard area to the west.
The building has a paved floor of mud bricks and contains huge blocks of quartz, some of them with a weighted face and embedded in the floor below the floor of the temple of Niuserre.
The head of the Egyptian Antiquities Sector at the Supreme Council of Antiquities, Ayman Ashmawy, added that the remains of the discovered building indicate that it was built of mud bricks, and that it was partially removed by Niuserre to build his temple.
He pointed out that many pottery vessels were discovered at the site, which may have been used in the foundation rituals of the oldest temple, which were discovered in the northeastern corner of the interior of the Temple of the Sun and at the bottom of the stone slabs of the foundations of the temple of King Niuserre.
For his part, Mohamed Youssef, director of the Saqqara Antiquities Area, said that the foundation deposits were found at the level of the mud-brick wall of the ancient temple, which consisted of beer pots, midum pots and some pots with a red edge.