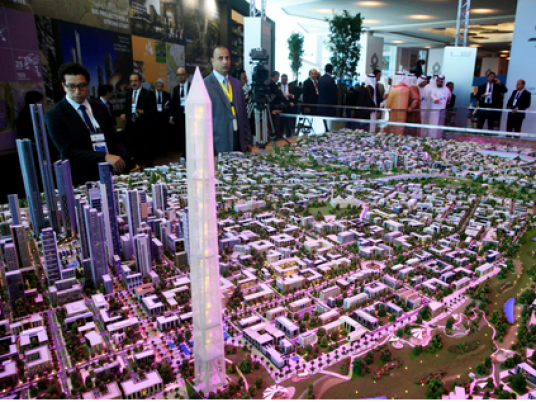 The idea is colossal: building an eco-friendly city the size of Singapore in the desert outside Cairo, a sleek new capital fit for the 21st century where a diverse slice of society will live in harmony.
Of the projects unveiled at the corporate jamboree that was Egypt's economic conference last weekend, "The Capital Cairo" is the biggest and least transparent endeavor, the latest mega-project ordered by President Abdel-Fattah el-Sissi to kick-start an ailing economy.
There will be leafy mixed-use neighborhoods, housing for up to 7 million people, 2,000 schools, shopping malls, solar energy farms, efficient public transport, skyscrapers, a million new jobs and even a central park more than twice the size of New York City's. It's everything missing from Egypt today — with a price tag of up to $80 billion.
For urban planners, the project — described as "a dream of what could become reality" — is a mystery, hastily conceived with no concrete information on funding. Questions stick out over the actual demand for so many units, who will build required infrastructure and how to attract a diverse cross-section of society. Is a flashy Dubai-style city feasible in impoverished Egypt?
"No one's looked at it on any serious scale … It is more like a scripted media event than a serious proposal, reflecting the current government's obsession with foreign, Gulf investments somehow coming to Egypt's rescue," said Cairo-based urban planner David Sims. "Real estate is now considered the engine of Egypt's growth and what better way to stimulate it, in spite of the dismal record of new desert towns to date, than to proclaim a colossal new capital?"
Crowds flocked to a scale model of the city during the conference in the resort town of Sharm el-Sheikh, where companies and states committed $36 billion in investments and billions more in preliminary agreements. In his closing remarks, el-Sissi said he was "in a hurry" to see the new capital built and urged work done faster than the original 10-year timeframe.
Peopling the desert with new cities has been an obsession of successive presidents in the Arab world's most populous country, but after decades of work and billions spent, occupancy rates are a fraction of original forecasts. Drawing Egyptians to new sites has been a major challenge, with high prices, lack of infrastructure, and few jobs in the areas.
All that will change with the new project, initiators say. The new plan falls under the auspices of the Housing Ministry and will be built by an Emirati-led fund called Capital City Partners. Founding partner Mohamed Alabbar said clear profit incentives will encourage the private sector to lead the way. Alabbar is chairman of Emaar Properties, the Emirati real estate developer behind large-scale projects like the record-breaking Burj Khalifa skyscraper and Downtown Dubai.
"If you really want growth, if you want a great percentage of return, then this is the place in the Middle East … For us as businessmen, the numbers make sense," he said in Sharm el-Sheikh. "I like to do big things in big countries where I know the economy and the people, and I know how eager the government (is) to move forward."
"In Egypt, I'll bite any risk any day," he added.
Others wonder if Egypt, a country with mass illiteracy, crushing poverty and tiny individual wealth compared to the energy-rich Emirates, is ready for the swank Dubai model of "world-class lifestyle" put forward by the man who built the world's first Armani Hotel.
"Let's say this does happen in seven years as the government wants. That's about 150,000 housing units per year, the same figure of what's currently being built annually in the whole country," urban policy researcher Yahia Shawkat said. "So where is the demand going to come from?"
Organizers of the project haven't revealed funding or partnership details, and requests for information went unanswered. A Housing Ministry official who wasn't authorized to release information and spoke anonymously said a master plan would be "released in July or August, God willing." El-Watan newspaper, close to the government, reported the contract would be signed before September with execution beginning in November. Citing an unnamed government official, it said the state would hold 20 percent of the shares in the company behind the project.
The allure of mega projects as a way to fix the economy is clear. Growth hovers around two percent, far from its all-time high of seven percent before the 2011 popular uprising that ousted longtime autocrat Hosni Mubarak. Unemployment stands around 13 percent.
Since el-Sissi overthrew Mubarak's elected but divisive successor Mohamed Morsi of the Muslim Brotherhood in 2013, Gulf allies and Brotherhood enemies Saudi Arabia, United Arab Emirates and Kuwait have stepped in with more than $30 billion in aid. The alliance may help explain Cairo's attraction to their model of fast-paced developments on previously barren land.
But in the absence of a parliament since 2012, the government's vision for a new capital appears to have been made unilaterally.
"This is a very classic kind of developer-speak where they get public land and then start studies and consultation with the public after the fact. It's a purely speculative kind of real estate exercise, opposed to what's really needed — a structure of dialogue with people," Shawkat said.
El-Sissi's personal engagement in the project coupled with the sheer size of possible Gulf investments make it likely to go ahead in some form. The question now is how much the state will pay for infrastructure upgrades, or whether it can persuade private developers to pitch in.
"Egypt is facing a housing shortage and serious population growth pressures, so the move to meet that demand in new urban areas outside of Cairo is a good idea," Cairo-based urban planner Josh Drake said. But he raised concerns about the execution. "The companies will be interested in quick money by selling units, but when it comes to infrastructure and schools, community facilities and open spaces — things that cost money and have little return — they'll probably be avoiding those costs."