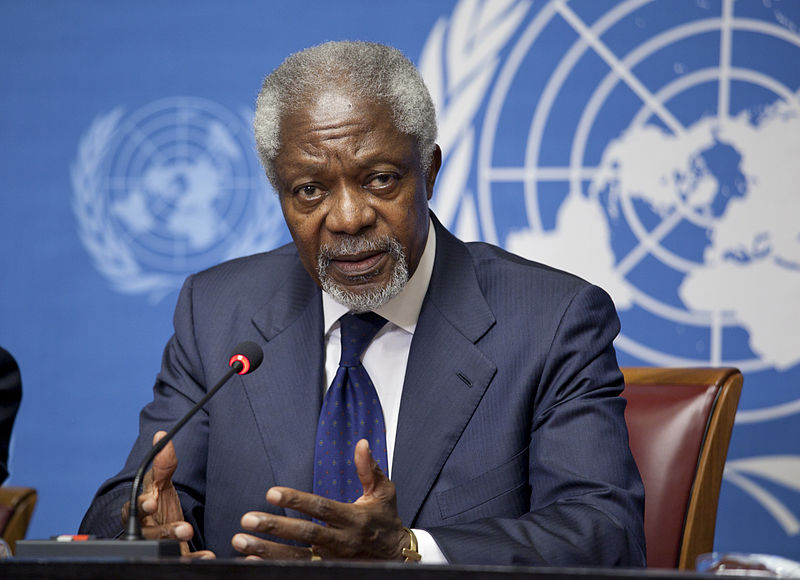 Egyptian President Abdel Fattah al-Sisi expressed his condolences on Saturday to United Nations Secretary-General Antonio Guterres over the death of esteemed ex-UN Secretary-General Kofi Annan, presidency spokesperson Bassam Rady announced in a statement.
"Annan's life represented an eventful and rich journey in which he made many vital contributions to achieving the goals of the UN," the statement said, specifying Anan's role and support for humanitarian causes. Rady added that this is a sad day not only for Egypt but for Africa and the International Community as a whole.
Egypt's foreign ministry joined Sisi in condolences, expressing its "deep sorrow" over the death of "an icon and a source of pride for every African and lover of peace."
"We deeply regret the departure of former UN Secretary-General Kofi Annan and extend our deepest condolences to his family and to the African and international community," foreign ministry spokesperson Abu Zeid said in a statement on Twitter, adding that Annan "left a mark for the causes of peace and development that will not be erased by the passage of time."
Annan, aged 80, died in Switzerland on Saturday, according to close sources. The Ghanian was a political legend, having served as UN  secretary-general for two terms from 1997 till 2006, when he announced retirement.
A pioneer in working with the UN to give priority to human rights issues, Annan's efforts earned him and the UN a shared Nobel Peace Prize in 2001.