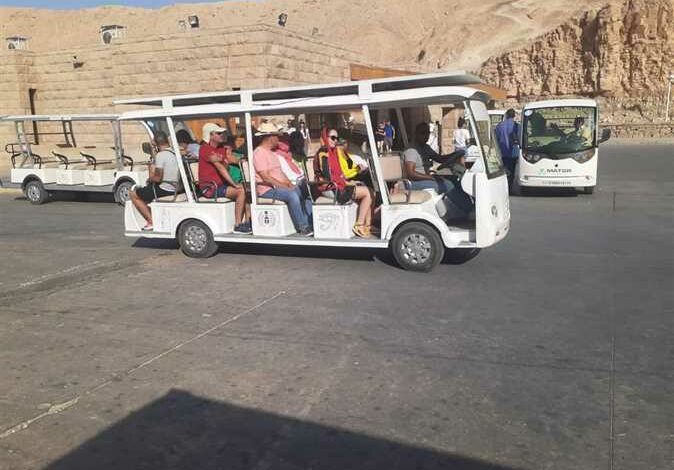 The sites of Deir el-Bahari and Valley of the Kings in Luxor Governorate witnessed the start of operating solar-powered cars to transport tourists inside the two archaeological sites with ease.
The Secretary-General of the Supreme Council of Antiquities, Mostafa Waziri, said that the start of operating these cars comes as a second stage for the electric cars that were provided to the sites early this year.
He added that the matter confirms the keenness of the Ministry of Tourism and Antiquities to use modern technology and activate the basics of sustainable tourism to preserve the environment in museums and archaeological sites and turn them into environmentally friendly sites.
Waziri pointed out that this coincides with preparations for Egypt's hosting of the 27th Conference of the Parties to the United Nations Convention on Climate Change (COP 27), which is scheduled to be held in Sharm el-Sheikh in November.
Waziri added that another number of solar-powered cars will be provided in all archaeological sites across the country.
This will come within the framework of developing and raising the efficiency of visitor services at archaeological sites, providing all means of availability and improving the experience of visitors during their visit, while transforming the tourism sector into an environment-friendly sector at the same time.
For his part, Bahaa Abdel-Gaber, Director General of Antiquities of the West Bank, said that it is scheduled to increase the number of cars at the two archaeological sites during the coming period, especially with the start of the winter tourist season and the large influx of Egyptian and tourist visitors to them.
These cars are present at the entrance gates of the two archaeological sites during official visiting hours, to transport visitors and facilitate their visit.