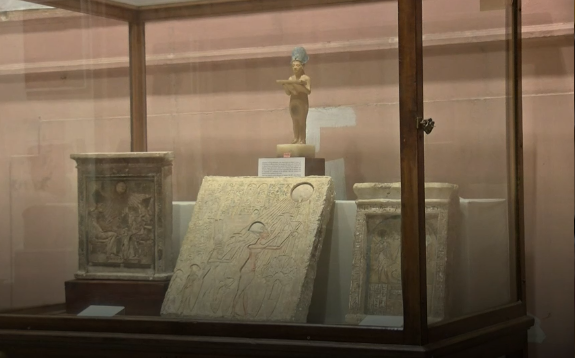 Egypt has finally received ancient artifacts that were smuggled to Italy last month, General Prosecutor Nabil Sadek announced on Saturday.
Earlier, the Egyptian Public Prosecutor's Office was alerted to a set of artifacts seized in the Italian city of Salerno, with suspicion that they were of ancient Egyptian origin.
The General Prosecutor ordered an extensive investigation into the matter, assigning the Ministry of Antiquities (MOA) to send one of it's Egyptian archaeologists to examine the artifacts and indicate whether they Egyptian.
The investigations and technical examination revealed that the seized pieces were 195 small ancient Egyptian artifacts and 21,660 coins from various different eras. The artifacts were in a diplomatic pouch, belonging to an Italian national, and was dispatched from Alexandria to Salerno.
The Egyptian Public Prosecution immediately sent the Italian judicial authorities an official request to retrieve the stolen artifacts, followed by a meeting between the Egyptian prosecutor General and judicial authorities in Italy.
In turn the Italian authorities ordered the swift return of the artifacts. A team from the Egyptian Public Prosecution along with Egyptian experts at the MOA traveled to Salerno, Italy, where the artifacts were being held and then shipped them back to Egypt.
The smuggled artifacts were received by the MOA, and are set to be displayed in the Grand Egyptian Museum.