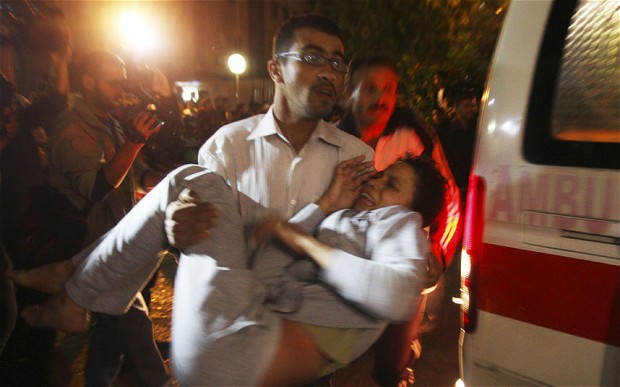 Egypt opened its border with Gaza on Wednesday night, sources in the border town of Rafah told Egypt Independent. Locals estimate that 2,000 Gazans fleeing Israel's bombardment of the densely populated enclave have already flocked over the crossing.
President Morsy, formerly a leader of the Muslim Brotherhood, is now seeking to balance domestic pressure to offer firm support to Gaza, with the realpolitik of moves that which antagonize Israel and the United States, as well as taking account of domestic concerns and reactions.
Meanwhile, Prime Minister Hesham Qandil has been asked by President Morsy to lead a delegation to the Gaza strip tomorrow, according to spokesperson Yasser Ali.
President Mohamed Morsy withdrew Egypt's ambassador to Israel yesterday, and has called for an "urgent" meeting of the Arab League on Saturday. He has officially reprimanded the Israeli ambassador. Media reports offer conflicting information on whether the ambassador is currently present in Egypt.
"Morsy exhausted most of his diplomatic cards in one move," Saeed Okasha, an expert in Arab-Israeli Affairs in al-Ahram Center for Political and Strategic Studies told Egypt Independent.
Morsy, Okasha says, is left with only dangerous options that could endanger his relationship with the US and Israel.
"Morsy is left with few options: seeking to amend the Camp David Treaty, and completely ending diplomatic and trade relations with Israel," Okasha said.
Domestic pressure
The Muslim Brotherhood, of which President Mohamed Morsy was a long-standing leader, consistently criticized former President Hosni Mubarak for his refusal to challenge Israel over attacks on Gaza. Mubarak expelled the Israeli ambassador on five occasions, including during operation Cast Lead, the assault on Gaza of December 2008 and January 2009. He did not, however, open the Rafah crossing.
The Muslim Brotherhood called for protests outside major mosques on Thursday afternoon, although none were very large. They have also called for a rally tomorrow, Friday, at al-Azhar mosque after early afternoon prayers.
Hamas, the ruling party in Gaza, and the apparent target of Israel's bombing, is an affiliate of the Brotherhood, but the larger Egypt-based section has not been quick to satisfy the aspirations of its Gazan associates. Most trade with Gaza still takes place through illicit tunnels.
Other political forces have called on Morsy to do more for Gaza.
The Salafi Al-Nour party said in a statement that Morsy's decisions are not enough, urging him to take more strict measures.
The liberal Constitution Party as well as various leftist political forces demanded the same, reminding Morsy and the Brotherhood of their long-standing rhetoric in support of the Palestinian cause.
Before the revolution the Brotherhood repeatedly criticized ousted president Hosni Mubarak for siding with American and Israeli interests in the region.
On a knife edge
Experts believe that Morsy is torn between pressure to take extra measures in support of Gaza, and the potential risks which this may bring.
Amending the Camp David Treaty would constitute a major shift for Egypt and Okasha believes it could be a double-edged sword.
"Presidential spokesperson Yassir Ali said, in the midst of the critical military situation in Sinai, that there is no need to amend Camp David Accords. Imagine if he decided to request an amendment now, how would the different political forces in Egypt respond? He did this for the sake of Hamas and not for the sake of Egypt? It would be very embarrassing for him," Okasha added.
He argues that the opening of the Rafah Crossing may backfire. Mainstream Egyptian media and opposition figures blamed Morsy for opening the crossing before 16 Egyptian soldiers were killed in an attack in Rafah on August, associating Gaza with Islamist militancy.
"Most of the cards Morsy is left with will be used negatively against him inside Egypt by rival political forces. The only option to appease the public, these political forces and Hamas is to cut diplomatic relations with Israel, which would be too costly for him internationally," he added.
The Qualifying Industrial Zones arrangement, a treaty with Israel whereby Egyptian companies receive preferential access to US markets for products which one tenth composed of Israeli materials. Textile exports based on the arrangements were valued at $1.3 billion in 2011, according to Bloomberg.
A leader of the Freedom and Justice Party, Sobhi Saleh, believes that Morsy's remaining options for escalation are not as dangerous as many believe.
"Cutting diplomatic relations, closing the Israeli Embassy, unilaterally freezing all the military elements of the Camp David Treaty are all possible steps, and we shouldn't be scared to take them. The US needs Egypt as much as Egypt needs good foreign relations," he claimed.
Morsy has been asked since assuming power in Egypt to meet with Israeli officials, but the meeting never happened.
Okasha believes that with Morsy's latest decisions, the relationship with Israel and the US seem to be worsening with Israel's adamant decision not to stop its military assault unless it achieves its purposes.
"Today is much quite than yesterday," an Irish activist in Gaza, Gisela Schmidt, told Egypt Independent. "We can hear explosions around the city and can see Israeli warships and naval forces approaching the shores of the Strip. It is still very difficult to know if there will be any ground attacks in the future."
She says that the supportive decisions which Morsy has made so far were met with applause in beleaguered Gaza City.
At least 15 people are thought to have been killed in Gaza since the attacks by the Israeli military intensified yesterday, while three Israelis were killed by a rocket earlier today.
The latest round of the conflict began after Israel broke a truce by assassinating a senior Hamas military commander.